Tech Prep Graduate Pathways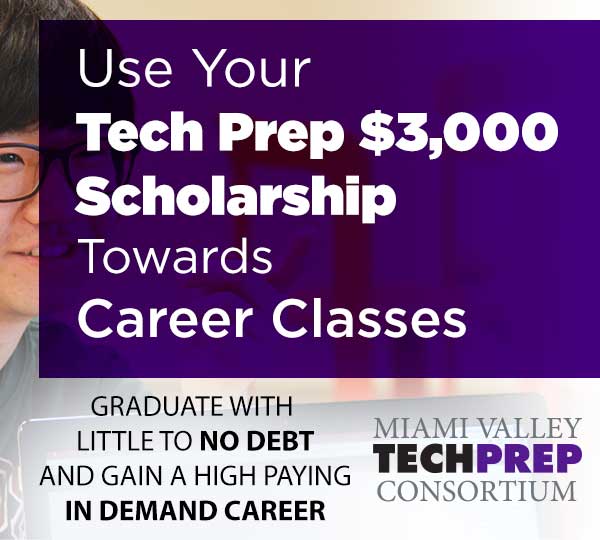 Tech Prep students do not need to apply to Sinclair!
Congratulations 2019 Tech Prep Graduates: You have earned the Tech Prep Scholarship!
As a Tech Prep Graduate you already:
Have a competitive advantage
Completed career exploration & development
Have lab experience in your pathway
Have earned REDUCED TUITION at SINCLAIR!*
Have earned a $3,000 Scholarship at SINCLAIR!*
You have a significant competitive advantage. Bring your experience to Sinclair to finish a credential, then apply it in the workforce, or continue on to one of 20+ 4-year institutions with which Sinclair has transfer and articulation agreements.
*Consult with your high school instructor regarding credits earned.
*Scholarship eligibility based on requirements outlined at http://mvtechprep.org.
About Using the Tech Prep Scholarships
The Tech Prep Scholarship is $3,000 towards tuition do you not have to pay back like a loan
All other financial aid must be used prior to using scholarship funds
Must be enrolled of a minimum of 12 credit hours per semester to receive the full scholarship of $750.00 per term
Enrollment for 9 to 11 credits will be pro-rated at $563.00 per term
Must maintain a 2.0 GPA at Sinclair Community College during your enrollment
In order to use the scholarship, you must declare a major. Academic Advisors can assist you.
If you have any questions about the scholarship, please contact the Tech Prep Office at 937-512-5146.
---
What is Tech Prep?
Miami Valley Tech Prep Consortium (MVTPC) is a unique organization whose mission is to help students meaningfully experience a career/technical field of study at the high school level and simultaneously earn college credits.
Students who elect to participate in Tech Prep may earn college credits while in high school, and are eligible to receive a $3,000 Sinclair Community College scholarship provided they earn a minimum 2.25 GPA and complete the requirements of their Tech Prep program prior to graduation.
Your Pathway Options