Automation & Control Technology with Robotics
AMCT.S.AAS
Associate of Applied Science - 62 - 63 Credit Hours
Division: Science, Mathematics and Engineering
Department: Automation and Control Technology
Effective as of Fall 2020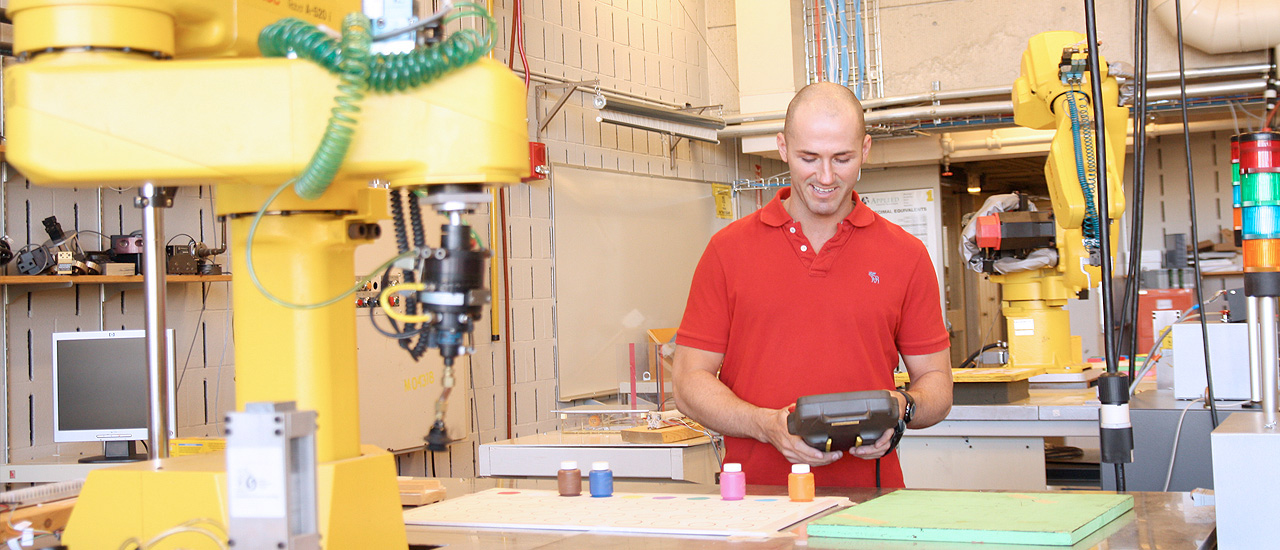 What is the program about?
The Automation and Control Technology with Robotics program builds knowledge in the application of electrical and mechanical skills for developing, installing, programming and troubleshooting the complex machinery found in the modern manufacturing and Supply Chain environments.
Program Outcomes
Conduct simple mechanical repairs on typical electromechanical systems, from replacing wiring, fluid power valving, piping, electromechanical devices, and other items that were original to the equipment, to installing new system modifications, then returning the system to operational specifications.
Conduct simple mechanical repairs on typical electromechanical systems, from replacing wiring, fluid Utilize computer software packages and write technical reports.
Diagnose electronic system problems using appropriate test instrumentation, schematics, technical reference manuals and determine if fault is electrical, electronic, software, or mechanical in nature. Recommend appropriate repair process and initiate repair.
Integrate electronic control equipment into typical small CIM environment so that overall system performs to specification. Equipment includes: discrete devices, PLCs, sensors, robot application programming, communication hardware/software, and computer related hardware.
Repair electrical and electronic systems, from devices, subsystems, wiring/cabling to circuit board level, and return to correct operation after testing.
Integrate into work cell the appropriate Fanuc robot for the application. Select necessary end-of-arm tooling, and develop/edit motion control program for the application, using available software features and/or options.ware.
Career Opportunities
This program prepares graduates for control system technician and designer, electrical and electronic systems engineering technician, industrial equipment sales, purchasing, installation, and service. Graduates will also be prepared to assume roles as industrial maintenance technician, plant maintenance technician, robotics technician, system integrators, and supply chain technician.
Transferability
Formal articulation agreements with other colleges and universities indicate how Sinclair programs and courses will transfer to other institutions.
Additional Information
This degree program contains one or more embedded certificates which will be automatically awarded when the certificate requirements are completed. If you do not want to receive the embedded certificate (s), please notify Registration & Student Records at studentrecords@sinclair.edu.
- View the Master Syllabus - View the Course Schedule
This information is for planning purposes only. Sinclair College will make every effort to offer curriculum listed above but reserves the right to change, add and cancel curriculum offerings for unforeseen circumstances.