David Sinclair
David Ainslie Sinclair, whose tombstone in Woodland Cemetery reads simply "Secretary of the YMCA," came to Dayton in 1874 at the age of 24 to attend a conference as representative of the YMCA in Hamilton, Ontario, where he was General Secretary. He so impressed the leadership of the Dayton Y, they offered him the Secretary position here and he accepted. What a difference that chance meeting has made to the Dayton community!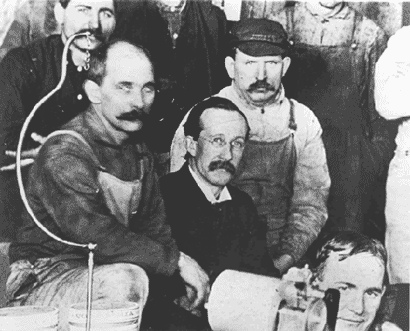 Sinclair (in dark suit and white collar, centered above) was born in Scotland and, though raised in Canada from the age of two, the values of his Scottish Presbyterian parents were passed along to young David. For that reason, he found it difficult to understand why Dayton had so many jobless young men. It bothered him enough that he did something about it, questioning both the men and local employers to see what could be done to connect these men with jobs. The answer, time and again, was a lack of skills - a need for training.
And so, the YMCA Education Department began to offer an ever-increasing number of vocational training courses. It had modest beginnings in the old YMCA building at Fourth & Main (later the State Theater) with 55 students and only two courses - Bookkeeping and Mechanical Drawing. Since then, Sinclair has grown into a sprawling campus, satellite campuses, and 23,000 students enrolled in hundreds of programs - and Sinclair continues to grow.
The early years of that growth were David Sinclair's obsession and, sadly, his health was not able to support the hard task he set for himself. Exhausted from the stress of politicking and fundraising for a new, larger building (now the City of Dayton Building at Third and Ludlow), he was forced by his doctor to take a vacation. His health was too damaged and he passed away while traveling in Montana. He never saw the completion of the dream he worked so hard to make real. The college's new building opened its doors in 1908, six years after his death.
Today David Sinclair would not recognize our campus or be able to understand many of our programs, but he would have no trouble recognizing his original vision in everything we do: "Find the need and endeavor to meet it."
For more information about David Sinclair or Sinclair Community College, please email Records Management or call 937-512-2319.