School Partnerships
Sinclair's School Partnerships Division includes
College Credit Plus, Tech Prep, and Transition Advising.
These K-12 partnership programs collaborate with secondary schools to provide opportunities for high school students to:
Be exposed to college coursework and career pathways
Earn college credit PRIOR to graduating high school
Receive added support with their high school teacher, Sinclair faculty, and School Partnerships support team
Reduce time and cost to a college credential
Develop a post-high school enrollment plan
To find out more about our school partners, visit our School Partner Information page.
---
College Credit Plus gives high school students the opportunity to take college courses while still in high school. CCP students receive support from high school teachers and guidance counselors, as well as Sinclair faculty and academic advisors. By earning both high school and college credits for the courses they complete, families save thousands in reduced costs associated with earning a certification or college degree.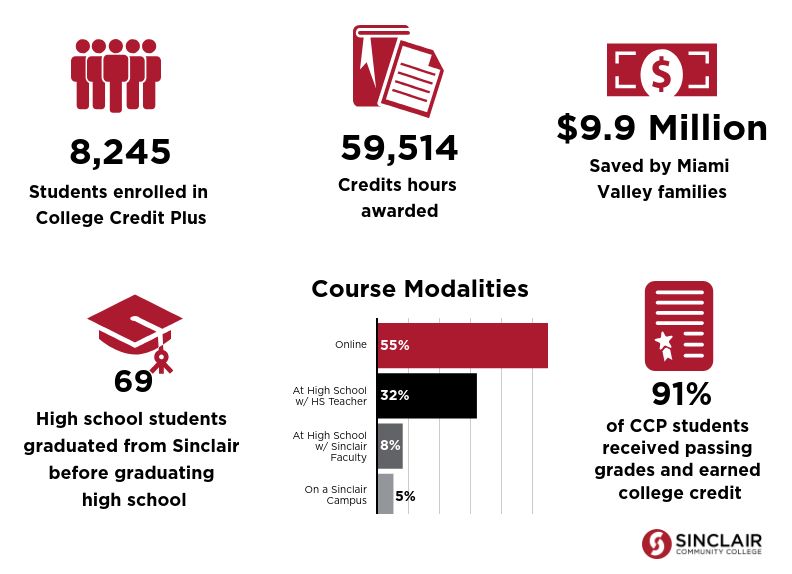 ---
The MVTPC enables students to experience a career/technical field of study at the high school level and simultaneously earn college credits. Tech Prep students can graduate from high school with college credits posted on a Sinclair transcript and may be eligible for a $3,000 Sinclair Tech Prep Scholarship.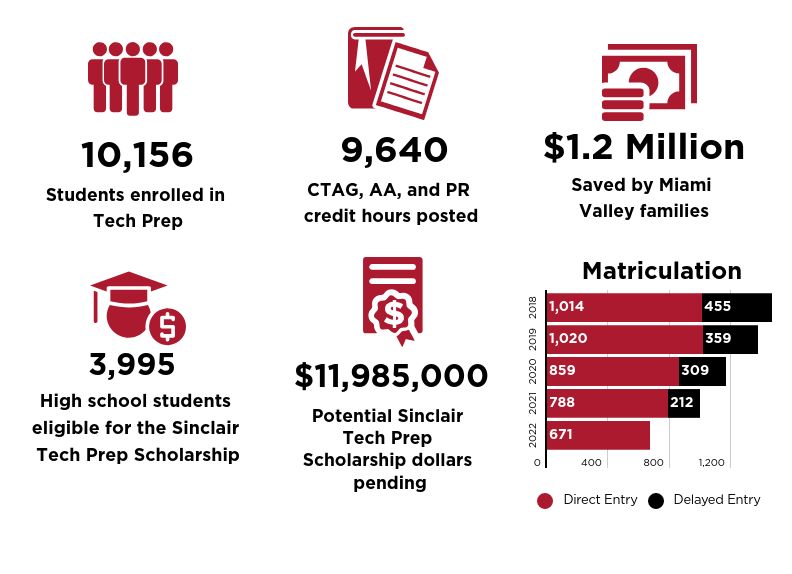 ---
Other High School Partner Services
Prior Learning Assessment (PLA) gives students the opportunity to demonstrate learning outside of the college classroom to earn college credit.
Two of the most common options for high school students are Advanced Placement (AP) and Project Lead the Way (PLTW). Both require completion of an exam, receipt of an equivalent score and appropriate documentation submitted to Sinclair Academic Advising in order to receive credit. Visit Project Lead the Way for more information.
Transition Advising
Sinclair's Transition Advisors assist students within selected high schools to successfully transition from high school to college/career, and understand how their College Credit Plus, Tech Prep, and other early college credits support their educational goals.
The Sinclair Transition Advising Team also serves as a partner to high school staff. They support high school teachers and guidance counselors in developing focused academic plans so students can align their college/career goals with a focused major.
For more information about our Transition Advising team, contact us at transition@sinclair.edu.
---
The goal of Sinclair's School Partnerships Division is to provide comprehensive services to ensure students can successfully launch their early college credit experience with a focus on credential completion or a successful career upon high school graduation.
School Partnerships Office
Building 6 Room 122
P: 937-512-2267
Liz Cicchetti, Chief School Partnerships Officer email