Aviation Technology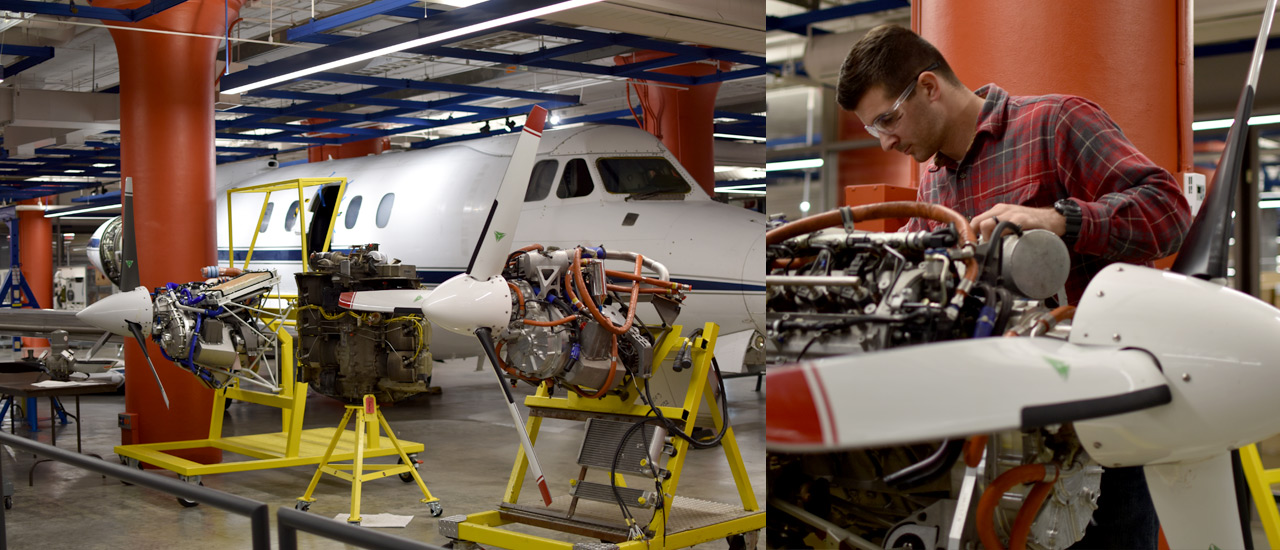 Sinclair College's Aviation Technology Department is pleased to announce that it has entered into a three-year agreement with MacAir Aviation to provide Sinclair students fixed wing ground and flight training instruction.

MacAir Aviation is an FAA Part 141-approved flight training provider at Greene County-Lewis A. Jackson Regional Airport in Xenia, OH. Training at MacAir Aviation will commence in January 2022.
For more information, please consult the Flight School Transition FAQ.
Spring 2022 Pilot Ground School and Flight Lab Registration will follow a new process, detailed here.
---
Sinclair College offers one of the most comprehensive aviation technology programs in the state and in the nation and now includes brand-new Bachelor of Applied Science degrees in Aviation Technology/Professional Pilot and Unmanned Aerial Systems. Graduates can also choose to continue their education in aviation by transferring to an aerospace university; through an articulation agreement, Sinclair students can transfer their credits to complete a Bachelor's Degree through Embry-Riddle Aeronautical University's Worldwide Campus.
Additionally, the Federal Aviation Administration has recently granted authority to Sinclair to certify graduates of its Aviation Technology/Professional Pilot degree programs to be eligible for an Airline Transport Pilot certificate with reduced aeronautical experience (R-ATP). The required total flight time for graduates of this program to obtain R-ATP certification has been reduced from 1,500 to 1,250 hours (Associate) or 1,000 hours (Bachelor).
Sinclair's bachelor and associate degree pilot training and technical certificate programs prepare graduates for careers as pilots, mechanics, flight attendants, aircraft dispatchers, managers and unmanned aerial systems operators. View all available Aviation Programs here.
Please see the MORE INFO box to the right or scroll down for Airplane and Helicopter program price lists. We also offer a PAYGO (pay-as-you-go) payment plan for flight instruction. Call 937-512-2046.
The Aviation Technology department has a unique partnership with MacAir Aviation, one of the region's most respected pilot training organizations. This partnership provides for the training of professional airline and helicopter pilots, through Sinclair Community College, at Greene County-Lewis A. Jackson Regional Airport.
Further, Sinclair has partnered with Dayton-based PSA Airlines, a wholly-owned subsidiary of American Airlines operating flights under the American Eagle brand, to train pilots as part of the PSA Cadet Program. This program offers qualified students a number of benefits including career mentoring, tuition reimbursement, and guaranteed employment upon successful completion.
Sinclair trains under FAA Part 141 (with the exception of Private Pilot certificates, which are under Part 61). Outstanding simulation hardware is utilized in our pilot programs. Our new Redbird Flight Simulator incorporates state-of-the-art glass cockpit training in addition to our GAT-II Simulator used for spatial disorientation training.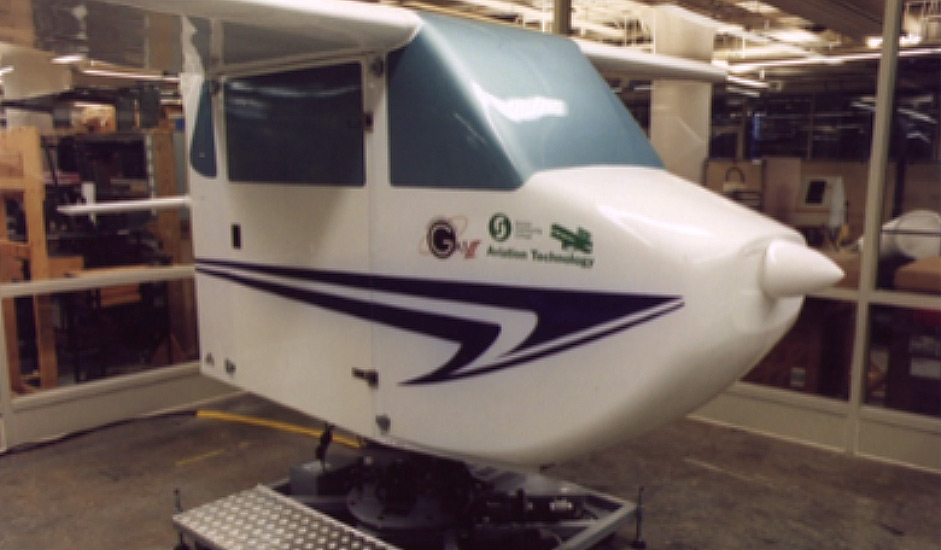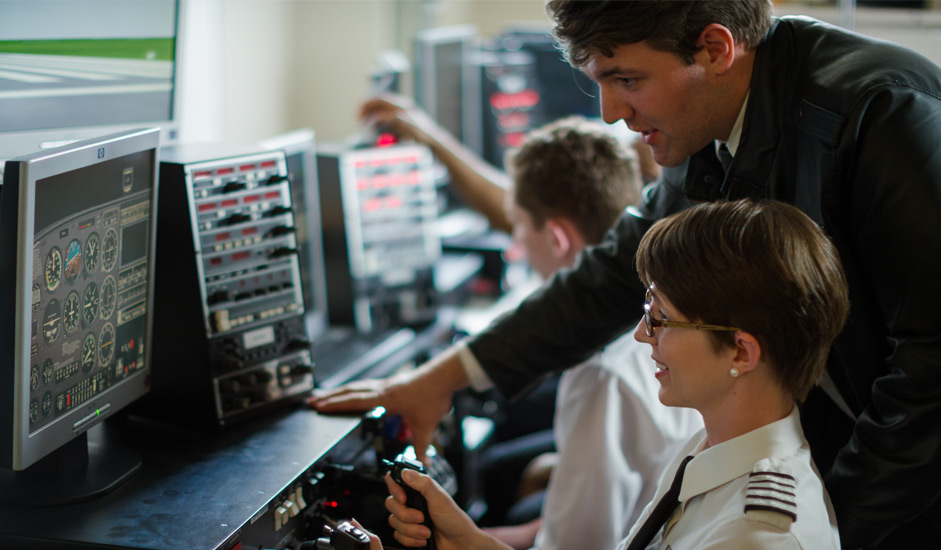 Cost Sheets
Fixed-Wing
Helicopter
Quoted flight training rates are for the minimum number of hours for each rating as dictated by the FAA. Flight training and/or tuition costs are subject to change.
Why major in Aviation Technology?
A number of potentially lucrative career opportunities exist in the aviation industry. The demand for major airline pilots is steadily increasing and the demand for general aviation positions is at an all-time high. The use of interstate commerce has increased the demand for cargo pilots, and a shift in business travel from the major airlines to executive-sized aircraft has created a new increase in the number of pilot jobs available. These changes in airline passenger and cargo traffic, along with an expected wave of retirements, will provide many job opportunities for new pilots, flight instructors, and support staff at all levels of the aviation industry.
This area of study might be for you if:
You would like to become a pilot or work in another aviation field.
You are interested in learning more about how airplanes or unmanned aerial vehicles work.
You are looking to gain hands-on experience in a challenging, high paying career path.
You desire to work in an industry that thrives in a variety of cities, states, and even countries, and offers a variety of opportunities for paid and personal travel.
What are the objectives of the Aviation Technology program?
The Aviation Technology program builds essential practical knowledge in the professional pilot, aviation maintenance, unmanned aerial systems, flight attendant, Unmanned Aircraft Systems (UAS), and aircraft dispatcher career fields.
What are the prospects for those interested in aviation?
The demand for major airline pilots and general aviation careers is at an all time high. The combination of retirements in the industry and difficulty in sourcing pilots to keep pace with the attrition has resulted in a pilot shortage in the United States, especially with regional airlines. Many of these carriers have recently increased compensation, incentives, and benefits for new pilots who are hired by and complete training with these companies. Flight attendants, maintenance technicians, and flight operations staff, such as aircraft dispatchers, are also in demand.
The Unmanned Aerial System (UAS) industry is a rapidly developing field with seemingly endless possibilities for new concepts for both careers and entrepreneurship opportunities. Geospatial Information Systems, First Responding, Agriculture, Data Analysis, and Real Estate applications have been identified as specific areas for growth.
Available Programs
United States Air Force ROTC
Sinclair and Wright State University (WSU) hold a crosstown agreement to allow Sinclair Aviation students to join WSU's ROTC Detachment and take required ROTC courses at WSU.
Housing at Wright State
Aviation students can stay at our partner Wright State University while they attend Sinclair classes for each term. Learn more about resident living at Wright State.
Interested students can apply for Wright State Housing by completing the following:
Step 1:
Complete The Wright Path Application to secure your Wright State student identification number. Once Completed and Approved and can then apply for housing.
Step 2:
Complete The Wright Path Housing Application through their housing website. You can also find their housing rates by location, per semester and month. $250.00 deposit will need to be paid prior to receiving your keys.
Note: When completing The Wright Path Housing Application, please choose Sinclair Aviation for the program.
For questions about housing, please contact Wright State Housing by email at housing_wrightpath@wright.edu or at 937-775-4172. Please let the housing office know that you are a Sinclair Aviation student seeking housing.
Photo Gallery