SPECIAL NOTICE:
Please email our office with any concerns or questions regarding Appalachian Outreach programs or events. The Coordinator will contact you within 24 hours or email Nora at nora.stanger@sinclair.edu.
Appalachian Outreach collaborates with college and community partners to provide programs and services that help eliminate educational and social barriers, champion the benefits of post-secondary education and life-skills training, and promote Appalachian cultural awareness at Sinclair and in the community.
Services Available
Life Coaching to assist in maneuvering college and life issues.
IMAGE/ICCP Assessment for students unsure of career direction.
Appalachian identity efforts to assist students in better understanding our culture.
Community service outreach to Dayton's Appalachian neighborhoods.
Development and nurturing collaborative partnerships with college and community leaders to design and support programs that celebrate Appalachian identity, culture and values, and the rich diversity within our community.
Service Information Request
If you would like to request information regarding Appalachian Outreach services, receive reminders and/or RSVP for the Appalachian Community Breakfast, please click on the Service Information Request button below to complete the request form.
Scholarships
Appalachian Outreach Department Scholarship:
To qualify, students must meet the following:
The following scholarships are offered through the Sinclair Foundation to assist students of Appalachian heritage.
Jack and Ann Klein Scholarship: To qualify, students must maintain a minimum 2.0 GPA and be enrolled part-time (11 credit hours or fewer)
William Pearl and Mae Morgan Scholarship: To qualify, students must be enrolled in a degree or certificate program, be of Appalachian descent from Eastern Kentucky or West Virginia within the past three generations, and be enrolled full-time (12 credit hours or fewer).
Click here for Sinclair Foundation scholarship details.

Applications are open at www.sinclair.edu/scholarships June 1-30 for Fall semester , November 1-30 for Spring semester, and March 1-30 for Summer semester.
Celebrate Appalachia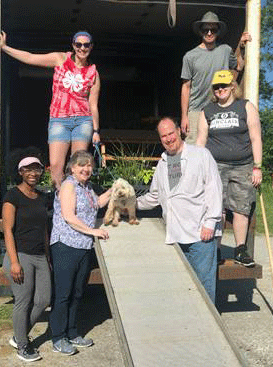 Appalachian Community Update Meeting

The Appalachian Community Update Breakfast meeting scheduled on February 15, 2023, will be held in person. Looking forward to seeing everyone!
Date: February 15, 2023
Time: 8:00 AM to 9:30 AM (Breakfast will be served)
Location: Building 2, Room 2334 - Green Room (Third floor of Building 2)

If you plan to attend, please RSVP here.
Academic Year 2022/2023 Activities
More information coming soon regarding activities for the 2022/2023 Academic Year.
Do you have a compliment to share with us?
Were you serviced well by one of our departments? Did a staff or faculty member make your day? Click here to share your compliment and tell us about it!