Choral Ensembles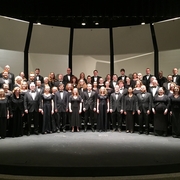 Sinclair's Music Department offers a quality and varied choir experience for music majors, non-music majors, community singers, and our greater Dayton area audience. Singers have the opportunity to experience varied choral ensemble experiences, styles, languages, and a wide choral repertoire to enhance students' lives and future professional music careers. Many students elect to simultaneously perform in more than one choir. Musical backgrounds and experiences of choral members vary.
Any person who wants to sing in the Sinclair choirs needs to pass an annual audition with the director and then receive permission from the department to register for the class.
To secure an appointment for an audition in preparation for Fall Semester, please contact the Music Department Office at 937-512-4580. For Spring Semester, contact the director directly: Prof. Daniel Greene at 937-512-2341 or daniel.greene@sinclair.edu
Choral auditions consist of "My Country 'Tis of Thee" OR a classical or folk piece of your choice, vocal exercises, sight singing, and pitch matching.
The Sinclair Music Department offers Chorale and the Vocal Performance Class for 2018-19:
Chorale: MUS 1131. 1 credit. SATB. Tuesdays 7:00-9:30 p.m. A larger choral ensemble that performs significant choral repertoire, folk music and spirituals from many time periods and in a variety of languages. Required for four semesters for voice majors, keyboard majors, and some guitar majors. Directed by Professor Daniel Greene.
Vocal Performance Class: MUS 2251, Section 102. 1 credit. Mondays 3:30-5:00. More advanced vocalists perform scenes from operas and musical theater. Directed by Professor Daniel Greene.