Criminal Justice Training / Police Academy
The application for the June (Summer) 2022 Day Academy is now closed.
The next Day and Night Academy will begin in January 2023. If you are interested in the the Sinclair Academy and would like to be notified when the applications are available in early-mid September 2022, please send an e-mail using this link.
---
Are you interested in attending the Peace Officer Basic Training (police academy) at Sinclair? One of the major events in the admissions process applying to the academy is the entry-level physical fitness standards test required before you can become a cadet. The entry level PT test is one of the primary reasons applicants do not gain admission into the academy. We want to help you prepare and provide you information on not only how but why healthy habits and a fitness routine can be beneficial. THERE IS NO TIME LIKE THE PRESENT TO BEGIN TRAINING AND LIVING A HEALTHIER LIFESTYLE.
Even if you have no intention of attending the police academy, this FREE workshop could give you just the right nudge to start 2022 off in a positive way that will be good for you. You DO NOT have to be a perspective law enforcement officer to register for this workshop – ALL comers welcome. Physical fitness and a healthy lifestyle are great mechanisms to help you manage some of the challenges and stress associated with everyday life. While it is the Sinclair Police Academy sponsoring this workshop, there is something in it for everyone.
The workshop will cover nutrition, strength, cardio, choosing the proper equipment (shoes) and other topics during this (1) one hour session. There is limited seating for each session so please don't wait and sign up now by calling the Sinclair Police Academy at 937-512-2270 to save your spot. If you prefer, you can e-mail your requested date and time HERE.
Available dates and times:
Tuesday. August 9, 2022 5:00 p.m.
Thursday, August 11, 2022 10:00 a.m.
Thursday, August 18, 2022 6:00 p.m.
Saturday, August 20, 2022 9:00 a.m.
Tuesday. September 6, 2022 5:00 p.m.
Thursday, September 8, 2022 10:00 a.m.
Saturday, August 24, 2022 9:00 a.m.
Thursday, September 29, 2022 6:00 p.m.
Tuesday, October 4, 2022 5:00 p.m.
Tuesday, October 11, 2022 10:00 a.m.
Saturday, October 15, 2022 9:00 a.m.
Tuesday, October 18, 2022 6:00 p.m.
---
We are now hosting weekly open Zoom Meetings for you to ask questions about the Academies at Sinclair
Click on one of the days to join in:
Tuesday Mornings 8:30 a.m. to 10:00 a.m.
or
Thursday Afternoons 12 Noon to 1:30 p.m.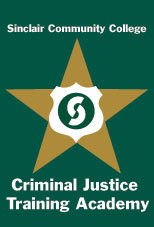 ---
Please check our Facebook page for current job postings.
---
About Sinclair's Training Academy
The Training Academy, part of the Department of Criminal Justice at Sinclair Community College, offers both pre-service and in-service training to support the needs of area law enforcement and corrections agencies. Peace Officer Basic and Corrections training offered through the Criminal Justice Training Academy follows the curriculum and standards of the Ohio Peace Officer Training Commission, and all commanders and instructors are certified by OPOTA. The Training Academy is located inside Building 19 at 214 South Wilkinson Street, near the corner of Fifth and Wilkinson Streets.
The programs of the Criminal Justice Training Academy are organized to train and retrain individuals for careers and professions in the Law Enforcement and Corrections Fields. Education should challenge the human spirit to improve the human condition. Therefore, we are committed to creative leadership in our educational programming and in fostering values that stimulate individuals to be innovative and progressive.
The Criminal Justice Training Academy recognizes that it is a valuable community resource. We will work to meet the needs of the community by identifying and assisting those who need its services, stimulating the development of new concepts, providing leadership for economic and cultural development, and serving as a resource center for community-based initiatives.
Please contact us if you have any questions:
sinclair.academy@sinclair.edu
937-512-2270
Our Mission Statement: To provide innovative training that prepares outstanding individuals who pledge themselves to serve as our protectors and guardians of peace.
Sinclair's Criminal Justice Training Academy on Facebook
Information:
Law Enforcement Links
FREE Downloadable Posters