Volunteer Opportunities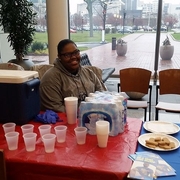 We are looking for student volunteers for upcoming Phi Theta Kappa events and to volunteer on our committees. Our goal is to increase awareness of PTK among faculty, staff, and students, but these activities will also be a great opportunity for you to meet other current and future PTK members and officers.
By volunteering to share your time and enthusiasm at one or more of the following events, you will also earn SOAR points towards NuPi scholarships!
---
We have several committees that will enhance students experience as a member of Nu Pi. Members receive 50 SOAR points per semester for volunteering to serve on a committee and 100 points per semester for serving as the chair person. Click on the links below to find out more about the committees listed
Public Relations Committee - we are looking for members to help raise awareness about the chapter, our events and other Phi Theta Kappa Opportunities.
Fellowship Committee - we are seeking members who would like to help plan fellowship events on campus.
Service Project Committee - we are looking for members to support campus, community and national service projects.
College Project Committee - We are looking for members to assist with our Community College Completion project.