Sinclair Cares: Suicide Prevention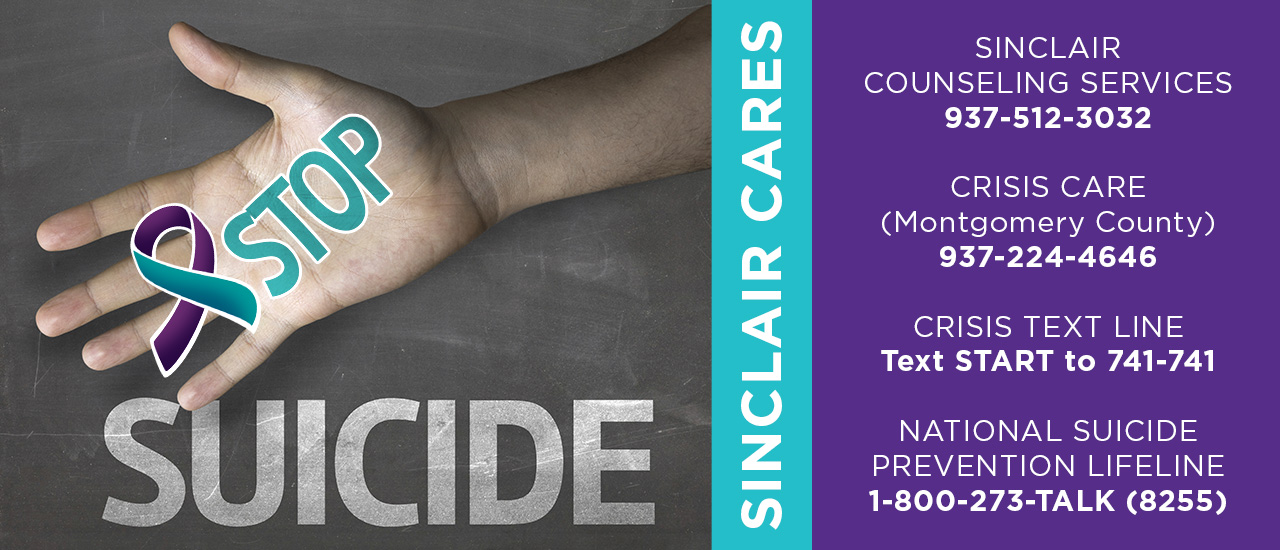 Sinclair is dedicated to assisting students on both a personal and academic level. Suicide is the second leading cause of death for college students, and Sinclair wants to help any student who is feeling depressed, alone, withdrawn or helpless. If you or someone you know is struggling emotionally, this website will connect you with information and resources to begin feeling better. Sinclair Cares!
Risk Factors
Family History of Suicide/Depression
History of Previous Suicide Attempts
History of Alcohol/Substance Abuse
Feeling hopeless or helpless
Lack of social support
Impulsive or aggressive behaviors
Easy access to lethal means
A recent loss (relationship, death, etc)
History of abuse
Diagnosed or undiagnosed mental illness, anxiety mood disorders, schizophrenia, and some personality disorders
Free Depression Screenings can be completed at the following times at Counseling Services, located at 4-331. Reduce the stigma!!
September 10, 10 am-2pm
September 11, 10am-2pm
September 12, 10am-12pm
September 13, 10am-12pm
September 13, 10am-12pm