LGBTQ+ Support
SPECIAL NOTICE: Because of COVID-19, the office of LGBTQ+ Support on campus is open on a limited basis. Liaison Larry Lindstrom is also available via email (larry.lindstrom@sinclair.edu) or by phone at 937-512-2481 for conversation any time.

Mission Statement
One of Sinclair's three strategic priorities is EQUITY. Sinclair's vision statement regarding equity reads as follows: "The student body, faculty, and staff will reflect the holistic diversity of the region, and success achievement gaps between groups will be eliminated."
Guided by our commitment to equity, the Offices of Student Affairs seek to provide a campus environment where all students, including those who identify as LGBTQ+, feel welcomed, respected, safe, and valued as full members of the campus community. We support LGBTQ+ students by providing resources and services, making education and training available to all members of the campus community, and developing students who are committed to leading positive social change. Through these efforts we embody one of the college's strategic policies, to "maintain the social justice and inclusion traditions of the college through open access to programs and services."
Contact Info:
For more information please contact us:
Email: LGBTQSupport@sinclair.edu
Phone: 937-512-2481
Room: 10-441
Community Programs and Services
There are multiple national and local community programs available to Sinclair students, which are focused on providing LGBTQ+ support. Sinclair staff can help connect students to community resources.
One program available with a ten year history of providing services and a movement of support in our local region is Brite Signal Alliance, a Sinclair chartered student group. Brite Signal Alliance is committed to promoting equality and raising awareness about diversity of sexual orientation and gender identity, including challenges faced by the LGBTQ+ community. The group offers support, education, and fun while promoting greater diversity awareness and change in the college and local community. This group meets every Wednesday from 5:00 p.m. – 7:00 p.m. in Building 10, Room 304.
Resources:
You are not alone! To find more information (or to connect to people who are sharing your experience), here are some valuable resources available online:
The Every One is Gay website features basic questions about being LGBTQ+, answered by people who have real-life experience.

This collection of about 100 episodes offers information about the LGBTQ+ community and how people fit in it. The series is very positive and encouraging! https://www.wnycstudios.org/podcasts/nancy

My Kid is Gay is an resource for parents and family members, to help them when their child comes out to them.
Podcast:
Here is an important podcast regarding sexual assault and the LGBTQ+ community. It was recorded for Sexual Assault Awareness Month as part of the "Sinclair Voices Carry" series and features Professor Nadine Cichy. Click here for "Sinclair Voices Carry" podcast, episode 1.
Schedule A Meeting:
Please click here if you would like to schedule a meeting with Larry Lindstrom, LGBTQ+ Support Liaison.
Upcoming Events
List of upcoming event (when available)

| Event Date | Time | Event | Location |
| --- | --- | --- | --- |
| | | | |
We are here to serve. You matter to us!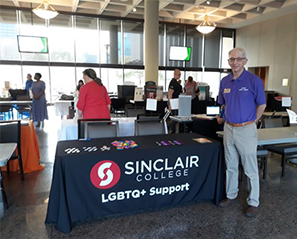 Do you have a compliment to share with us?
Were you serviced well by one of our departments? Did a staff or faculty member make your day? Share your compliment and tell us about it!