African American Male Initiative (AAMI)
The African American Male Initiative (AAMI) is a completion initiative designed to help young men find their passion, walk in their purpose, and reach their potential.
Specifically, the purpose of the program is to retain students from term to term, insuring that students maintain a GPA in good standing, experience personal and professional development, and complete their degree/certificate on time (within 2-3 years). This program is culturally relevant and supports men of color at their level of need, whether it is academic, professional, social, or emotional.
Visit the Student African American Brotherhood (SAAB) National organization.
AAMI Students as of Fall Semester 2019
3 students completed their degree during fall 2019
8 AAMI students are on the Dean's List
21 students earned a GPA of 3.0 or higher for fall semester
16 students earned a GPA of 2.0 or higher for fall semester
75% of AAMI students registered for Spring Semester 2020 on time
All students have an academic plan!
2019 Graduates from AAMI
Brother 2 Brother Meetings for Spring Semester 2020
Our Brother 2 Brother meetings are informative and impactful! We work to bring topics that will help to develop our students academically, professionally and personally. We also celebrate birthdays monthly on the last Friday of each month with cake.
All meetings are on Friday's at 12:00 p.m. in the AAMI office, located in Building 8, Room 8-027 unless otherwise listed.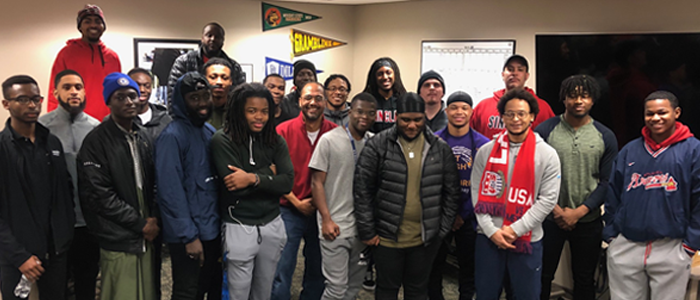 SPRING SEMESTER 2020 BROTHER 2 BROTHER MEETING SCHEDULE
January 10: John Payne, Fatherhood Initiative - Mr. Payne and his team will discuss the Fatherhood Initiative, a program designed to link new and expectant fathers to community services to help reduce the infant mortality rate in the Dayton/Montgomery County area. (COMMUNITY)
January 17: Robert Menafee, Economics Professor, Sinclair College - Professor Menafee will discuss the role of economics in American society and within the African American community. (EDUCATION)
January 24: Frederick L. Cox III, Servant Leadership and Personal Brand - Frederick will discuss the importance of self-promotion and personal branding. (EDUCATIONAL/CAREER)
January 31: Kenneth "Chip" Hodges, Accounting Professor, Sinclair College - Professor Hodges will explain income tax preparation and answer questions as it relates to filing income tax forms. (LIFE SKILLS)
February 7: Jonathan Cain, Executive Director, Future Stars of Dayton - Jonathan will speak about his program, Future Stars of Dayton, a character development and mentoring program for youth in the Dayton, Ohio community. (COMMUNITY/CIVIC ENGAGEMENT)
February 14: Dawayne Kirkman, Ph.D. - "Love is the Strongest Force" (LEADERSHIP)
February 21: Jake Fullard, Professor, Automation & Controls Technology, Sinclair College - Professor Fullard will discuss the education and earning potential of a career in Automation & Controls Technology. (EDUCATIONAL/CAREER)
February 28: REACH Across Dayton (NO MEETING) - AAMI Staff and students will participate in the 27th annual conference in Sinclair's Great Hall, Building 12.
March 6: NO MEETING; SPRING BREAK
March 13: Tina Hummons, Ph.D. - Registrar, Sinclair College - (CAREER/LEADERSHIP)
March 20: Black Male Summit, University of Akron- AAMI students and staff will travel to the Black Male Summit at The University of Akron. (LIFE SKILLS/EDUCATION)
March 27: Delbert Hickman - Delbert Hickman, U.S. Army veteran, will speak to our students about his journey as a member of the army and now as a software developer. (LIFE SKILLS)
April 3: James Pickens - April is financial literacy month, and James will visit us to any questions about financial wellness at every stage of life (LIFE SKILLS/FINANCIAL)
April 10: Rocky Belcher, Entrepreneurship, Sinclair College - Professor Belcher will speak during our Brother 2 Brother meeting to discuss entrepreneurship and what it means to be a business owner. (CAREER/EDUCATION)
April 17: Jackie Cummings-Koski, Financial Literacy - Financial literacy educator and author of "Money Letters 2 My Daughter will visit our Brother 2 Brother meeting once again to discuss how to reach financial independence. (LIFE SKILLS/FINANCE)
April 24: Robert Owens, Educational Consultant, Signature Educational Solutions - Mr. Owens will speak to our students about the power of time and self-management inside and outside of the classroom (LIFE SKILLS)