Food, Housing, and Transportation Resources
Here's Where to Find Help
Are you a Sinclair student who is struggling to obtain the everyday essentials of food, housing, or transportation? You are not alone in this endeavor. Here are some resources that are available for current Sinclair students to help in these areas.
---
Food Assistance
Sinclair Students who are in need of free food supplies can use multiple resources at Sinclair as well as partner resources to help them meet the daily essentials for food. Some of them include:
Lunch Time Hunger Program
Open on Tuesdays, Wednesdays, and Thursdays from 11:00 a.m. - 2:00 p.m.
Located in Building 13, Room 426
Students are able to stop by and get a free lunch, no questions asked
Mobile Food Pantry
Sinclair has their own mobile food pantry every 3rd Thursday every month
Located at Building 20 from 1:30 p.m. - 2:30 p.m.
Ginghamsburg Church- Fort McKinley Food Pantry
Offers two food pantry options to people in need of food assistance.

Tipp City Choice Food Pantry
Open Monday 6:00 p.m. - 7:30 p.m. Tuesday and Thursday 2:00 p.m. - 3:30 p.m.
They serve all Miami County Residents, who provide a photo ID and proof of residency
Located at 7695 S. County Rd. 25A Tipp City, OH
Contact them at 937-669-1213 with any questions
Open Tuesday through Thursday 11:00 a.m. - 1:00 p.m. and the third Thursday of each month from 6:30 p.m. - 7:30 p.m.
Serve residents in the zip codes of 45406, 45416, and 45426 who provide a Photo ID and proof of residency
Located at 506 E Main St. Trotwood, OH
Contact them at 937-715-9262
Opened Monday through Friday from 10:30 p.m. - 12:30 p.m.
Serves anyone who is in need of food assistance
Located at 3730 Delphos Ave. Dayton, OH 45417
Contact them at 937-263-3556 with any questions
Open Monday-Thursday 9:00 a.m. - 5:30 p.m

Closed on Friday
Go no later than 4:30 p.m. for guaranteed service

Located at 627 E. First St. Dayton, OH 45402
Provides multiple types of food pantries for people with diverse background and abilities
Individuals trying to obtain food from this organization must provide a photo ID, Social Security cards, and a 221 card
For more information call 937-224-3003
The House of Bread serves hot lunches everyday of the year to those in need
Doors open at 10:00 a.m. and lunch is served from 11:00 a.m. - 1:00 p.m.
Located at 9 Orth Ave. Dayton, OH 45406
For more information call 937-226-1530
---
Housing Assistance
Sinclair College does not offer student housing, but there are resources available for students who are homeless or struggling to find shelter.
Through the Rapid Re-Housing program, the Community Action Partnership pairs those who are homeless with families and individuals who can provide them with temporary or permanent housing
They also have the Donnellan Shelters, which is a six-unit shelter that will provide families a place to live for up to 30 days
They also offer the family transitional residency house which is a seven-unit facility that provides families with a home for up to six months
Through their Harding Transitional Housing Program, The Community Action Program offers single homeless adults a place to stay in an apartment complex that can range from six to 18 months
Contact them at 937-341-5000 with any questions you may have
St. Vincent DePaul for Women and Families
This is a homeless shelter that operates on a 24-hour basis focusing on serving single women and families with children
Men that have spouses and/or children are able to be housed in this complex.
This shelter will provide family members three meals a day, clothing, personal care items, mail and message services, and access to case management
This shelter is located at 120 W Apple St. Dayton, OH 45402
You can contact this organization with any questions at 937-461-7837
YMCA Domestic Violence Shelter and Housing Network
Provides emergency shelter services to women and children who are escaping from a situation where domestic violence is present
Also offers Rapid Re-Housing
St. Vincent De Paul Gateway Shelter
This is a 24-hour emergency homeless shelter serving single men
This shelter provides three meals daily, clothing, personal care items, mail and job services
Located at 1921 S. Gettysburg Ave. Dayton, OH 45417
For more information call 937-222-7350
This organization Is the region's only program designed to move homeless youth ages 18-24 out of homelessness, poverty, under-education, and crisis
Located at 605 S. Patterson Blvd. Dayton, OH 45402
For more information call 937-395-4600
---
Transportation Options
Sinclair students are responsible for providing their own transportation to campus. Below are some available public transportation options.
Sinclair Dayton campus has direct access with Routes 1, 2, 4, 8, 19, and 22

During 4th and 5th street construction routes 8 and 19 will stop at:

Route 8 at will stop at 5th and Ludlow
Route 19 will stop at 4th and Robert

There will be no stops within the construction zones

All RTA vehicles are fully accessible for those with disabilities

Equipped with wheelchair lifts
Stop Assistance Kits
Bus Hailer Cards
Project Mobility

For more information, call RTA Customer Service at 937-425-8300
This is a service provided for individuals with disabilities that substitutes for the regular RTA fixed route service
This service provides door-to-door service for those individuals certified as eligible for paratransit services as stipulated by the Americans with Disabilities Act
Project Mobility operates within the RTA service area ¾ of a mile from any fixed route bus stop
Reservations must be made 24 hours in advance
For more information on Project Mobility, call 937-425-8300 or 877-425-8444
The Greene CATS Public Transit's services are open to the general public
They offer two types of Demand Responsive Service:
Scheduled Ride Pick Up
Scheduled Rides
Flex Routes
At Sinclair, the Red Line picks up and drops off in front of Building 10 on Fourth Street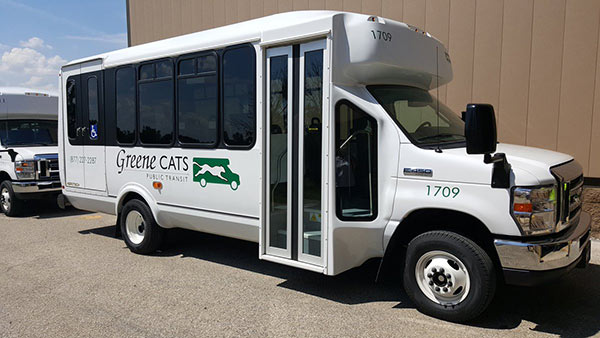 ---
More Assistance
All Student Success Services: searchable student success services by category and types of student challenges, for all aspects of college life. Our services are matched with students' common challenges they face when trying to complete college, meet goals, and graduate on time
Academic Advising: Not sure and need help? Academic advising can help connect to you available services, specific to your needs
MyGPS: Get assistance in building a Personal Road Map that will guide you on your journey to success at Sinclair
Financial Aid & Scholarships: Sinclair's goal is to make college as affordable as possible. One way we do this is through financial aid and scholarships
The purpose of the Case Manager is to provide non-clinical services to the campus community

Assist in achieving academic success and personal growth by connecting students to the resources they need

To find out more information about what the Case Managers

Contact Brenda Smith at 937-512-3032 or visit Building 4 Room 331