Works On Paper Gallery
The Works on Paper Gallery is located on the 4th floor of Building 13 across from the Burnell R. Roberts Triangle Gallery. This gallery features artwork from local, national, or international artists. While called Works on Paper Gallery, other 2D art is often featured in this space.
---
Current Exhibition:
Street Story Montages by Stephen Marc
January 3 - 24, 2023

Street Story Montages by Marc, a documentary photographer, is a series that explores American identity and sense of place. He captures public gatherings where American character is revealed and has created a series of montages from digitally stitched panoramas and photographs. The result is a view into American culture which is complex, socially charged, historically layered, and in constant flux.
---
Past Exhibitions:
Seeking Inherent Value by Maureen O'Keefe
November 3 - December 10, 2022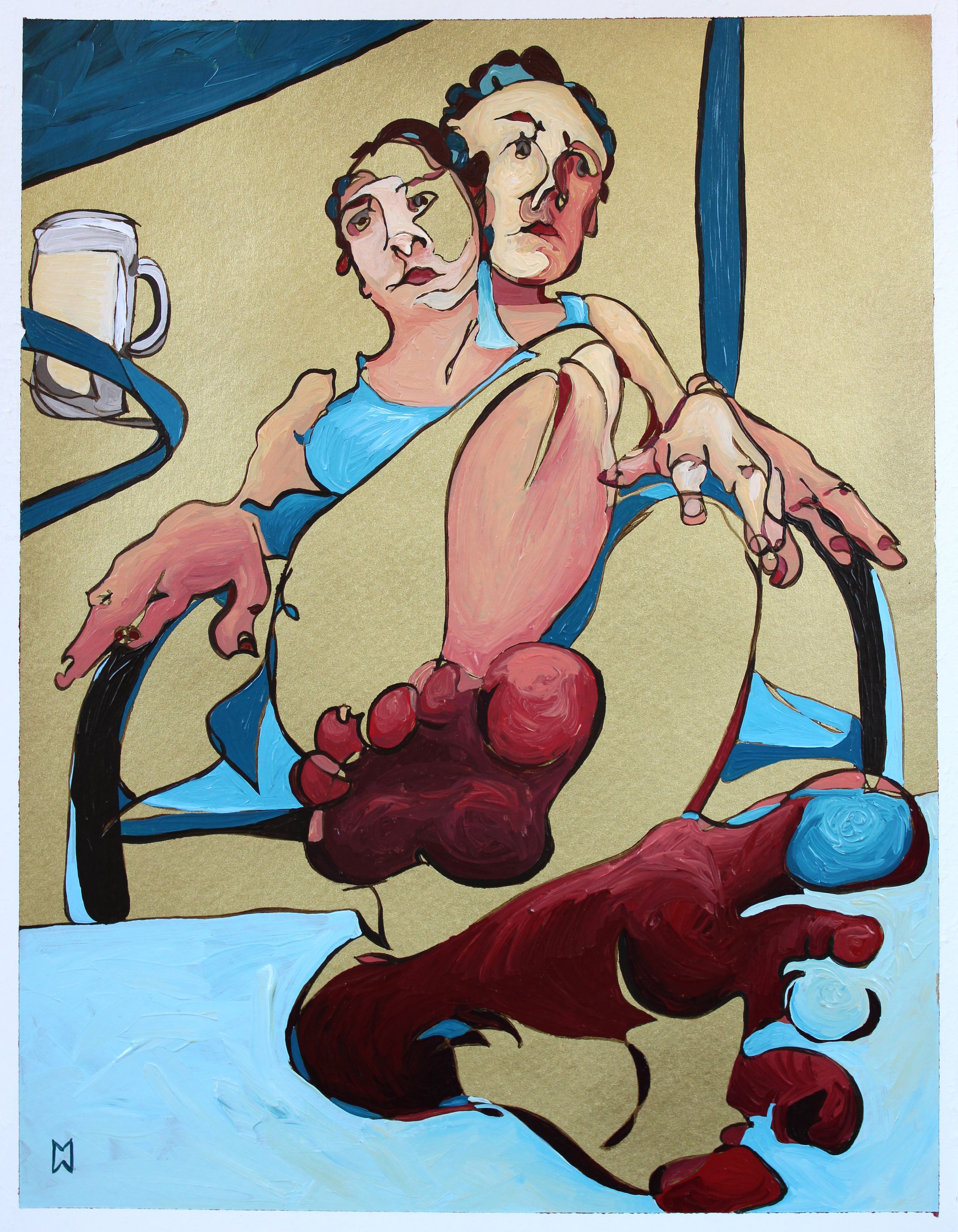 Seeking Inherent Value by O'Keefe is a series of painted portraits based in blind contour drawings. These works, accented in gold, are a meditation on the value a person holds and how societies often tie value to productivity in one way or another, thus leaving the inherent value of a person in question.
---
Modern Punchinello by Brian Fencl
September 20 - October 19, 2022


Fencl will be exhibiting a series entitled "The Modern Punchinello" in the Works on Paper Gallery through October 19. These pieces feature his "trickster transformers" who embody Fencl's observations and explorations of human vulnerabilities. Rooted in pop surrealist philosophies, his work is informed by everyday life, dreams, and an understanding of history.
---
The Fine Art Faculty Exhibit
August 15 - September 13, 2022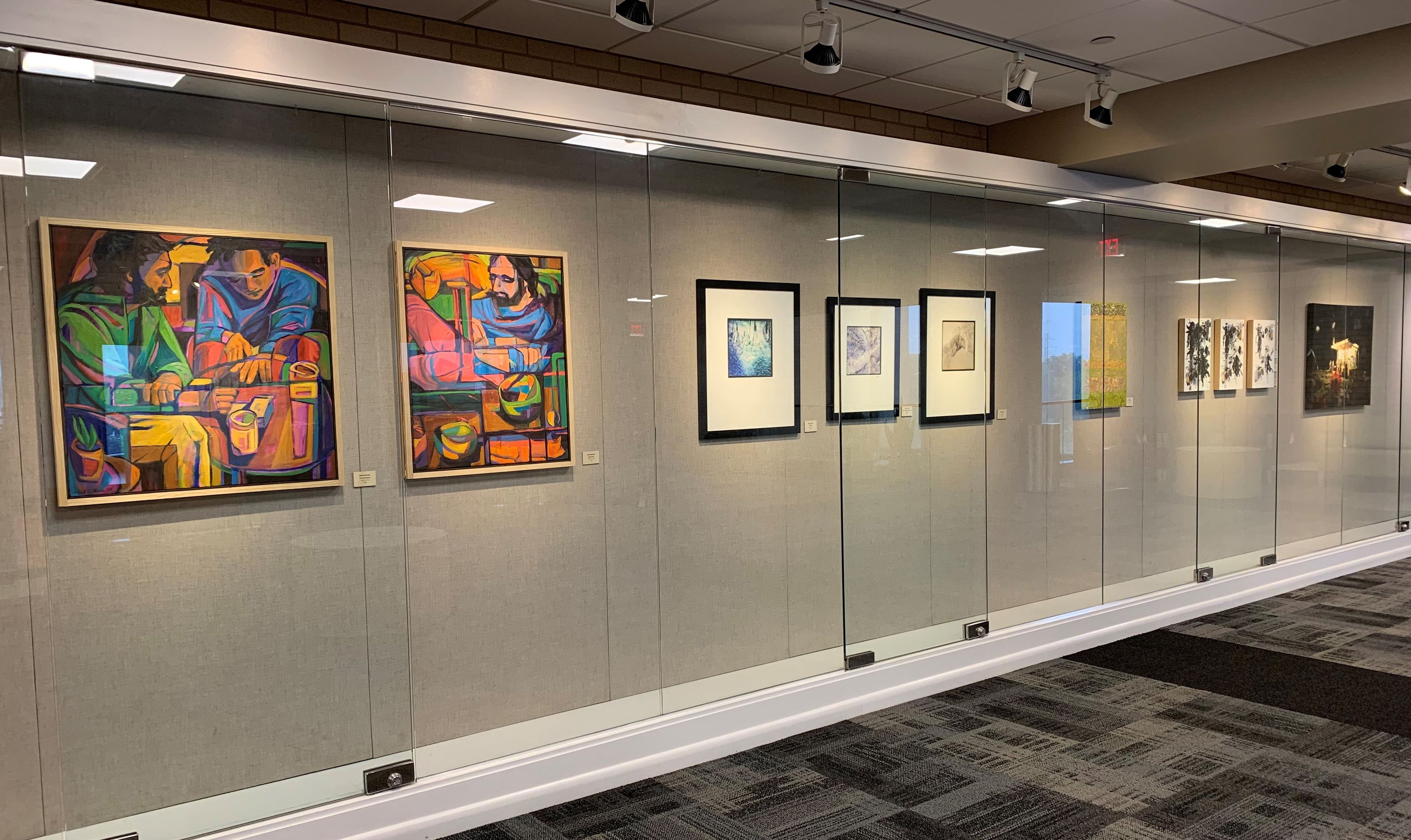 The Fine Art Faculty Exhibit.
Find more information on the Burnell R. Roberts Triangle Gallery Page.
---
Selected Student Purchase Awards
July 5 - August 6, 2022
The Sinclair Art Department is pleased to present Student Purchase Award artwork in the Burnell R. Roberts Triangle Gallery and the Works on Paper Gallery.
Thanks to the generosity of Burnell R. Roberts, the Mauch Endowment Fund, as well as a small variety of other donors throughout the years, Sinclair has been able to purchase and display throughout Sinclair's Dayton, Centerville, and Englewood campuses over 130 pieces of student artwork. Each spring any student who has taken an art class at Sinclair within the last twelve months is eligible and encouraged to submit work created for their classes to the Juried Fine Art Students' Exhibition. During the exhibition, new works of art are selected as purchase awards. These works of art are acquired and added to the college's art collection.
A twenty-six-piece selection will be on view from Tuesday, July 5, 2022 through Saturday, August 6, 2022. Both galleries are located on the 4th floor of Building 13 (located at Fifth and Perry Streets). The galleries are free and open to the public from 8am–6pm Monday–Friday. To view all of Sinclair's Student Purchase Awards along with their current location around Sinclair's campuses, visit www.sinclair.edu/purchaseawards.
The artists included in the exhibition are Rachel Andrews. Kelly Bledsoe, Toni Burton, Amanda Campbell, Andrew Deel, Clarissa Dickey, Holly Gillenwater, Matthew Goins, Aubrey Hacket, Rachel Hall. Katherine Harris, Joy Helton, Eishichi Iramina, Catherine Marrs, Diana May Rice, Taylor Mitchell, Don Pesce, William Rigg, Desty L. Sacksteder, Debbie Serrer, Luke Shipp, Bryson Smith, Megan Turner, Irene Ward, Hannah Williams, and Stephen Wisebaker.