Burnell R. Roberts Triangle Gallery
The Burnell R. Roberts Triangle Gallery was dedicated in 1994 and features, local, national, and international contemporary artists. Designed for the exhibition of all media including electronic and installation work. The Triangle Gallery is located in Building 13 on the 4th floor.
---
Current Exhibition:
Good Soil by Samuel Dunson
January 3 - 24, 2023
Samuel Dunson is exhibiting his series titled Good Soil, which deals with accepting, then overcoming changes that occur throughout life. His work aims to tell stories personal to Dunson, but in a manner that is universal in its comprehension. His use of realism and stylization within the same work allows for weighty concepts to be approached in a light-hearted manner.
---
Past Exhibitions:
Gold Standard by Roger Boulay
November 3 - December 10, 2022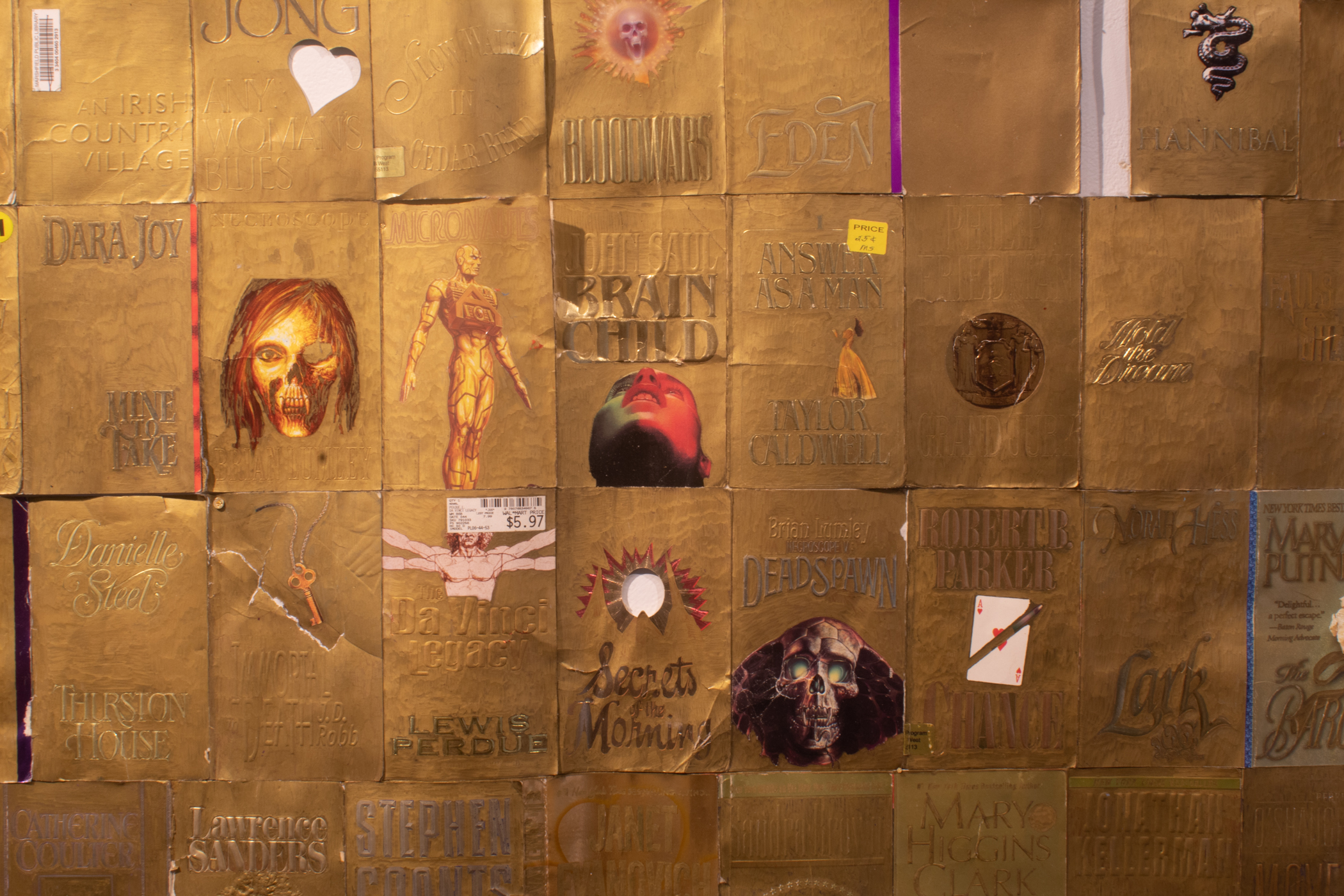 Roger Boulay is exhibiting his series titled, Gold Standard. Boulay's Gold Standard installation invites its viewers to consider the contradictions the color gold holds in our society, the roles gold has played in our past and present, as well as its use in the political realm to exploit, critique, or justify action.
---
Greg Blair and Tracy Miller-Robbins
September 20 - October 19, 2022
Greg Blair and Tracy Miller-Robbins will be exhibiting in the Burnell R. Roberts Triangle Gallery through October 19. Often using wood as a foundational material, Blair incorporates additional media to combine fine craft and de-skilled methods of assembly to engage the viewer to better understand the colliding desires, histories, and identities of place.
Miller-Robbins explores the lines between animation and drawing, digital and traditional methods, and abstract and figurative in her works. Utilizing digital tools to create work grounded in traditional methods, Miller-Robbins explores the human condition, universal sensation, and experiences in her subtly autobiographical work.
Brian Fencl will be exhibiting a series in the Works on Papger Gallery entitled "The Modern Punchinello." These pieces feature his "trickster transformers" who embody Fencl's observations and explorations of human vulnerabilities. Rooted in pop surrealist philosophies, his work is informed by everyday life, dreams, and an understanding of history.
---
The Fine Art Faculty Exhibit Featuring Anthony Wolking
August 15 - September 13, 2022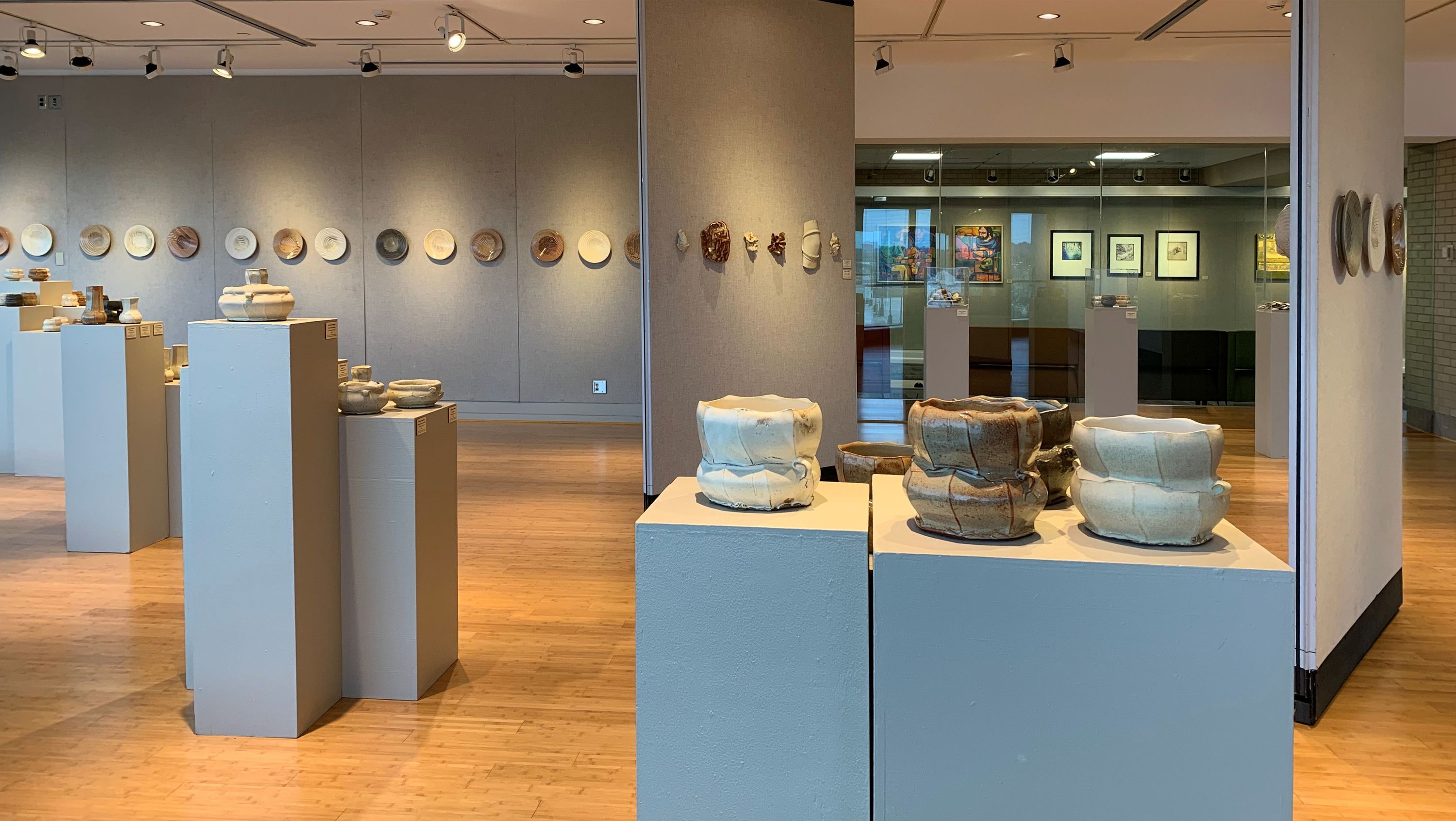 Each fall, the Burnell R. Roberts Triangle Gallery, the Works on Paper Gallery, as well as other spaces around Building 13 are hosting work from the faculty and adjunct faculty of Sinclair's Art Department.
The Burnell R. Roberts Triangle Gallery traditionally features one faculty member, and this year will exhibit work by Anthony Wolking. Wolking has been at Sinclair since 2017 and teaches ceramics and sculpture. When asked about his exhibition he says, "This body of work exhibits the hidden away and disparate parts of my studio process. It is a reflection on the ways in which I seek connections between conscious, intentional making and the residue of making activity. I provide and hold space in consideration of my creative processes and explore framing the unintended with intentionality."
A Kentucky Native, Wolking spent his formative years viewing the bustling city of Cincinnati from his childhood home across the Ohio River. At a very early age he became aware of his need to make things to bring about a better understanding of the world. His interest in ecology and natural systems are rooted in refining local clays as part of his academic studies in ceramics. He has been a teacher for more than two decades, and his research has taken him throughout the United States, Great Britain, China, and Taiwan. He has exhibited both nationally and internationally where his work is retained by private and public collections.
There will be a virtual artist talk discussing his work over Zoom on September 8, 2022 at 12pm. Zoom Link.
Additional Exhibiting Artists: Bridgette Bogle, Mark Echtner, Sara Fleenor, Kevin Harris, Kelly Joslin, and Richard Jurus.
---
Selected Student Purchase Awards
July 5 - August 6, 2022
The Sinclair Art Department is pleased to present Student Purchase Award artwork in the Burnell R. Roberts Triangle Gallery and the Works on Paper Gallery.
Thanks to the generosity of Burnell R. Roberts, the Mauch Endowment Fund, as well as a small variety of other donors throughout the years, Sinclair has been able to purchase and display throughout Sinclair's Dayton, Centerville, and Englewood campuses over 130 pieces of student artwork. Each spring any student who has taken an art class at Sinclair within the last twelve months is eligible and encouraged to submit work created for their classes to the Juried Fine Art Students' Exhibition. During the exhibition, new works of art are selected as purchase awards. These works of art are acquired and added to the college's art collection.
A twenty-six-piece selection will be on view from Tuesday, July 5, 2022 through Saturday, August 6, 2022. Both galleries are located on the 4th floor of Building 13 (located at Fifth and Perry Streets). The galleries are free and open to the public from 8am–6pm Monday–Friday. To view all of Sinclair's Student Purchase Awards along with their current location around Sinclair's campuses, visit www.sinclair.edu/purchaseawards.
The artists included in the exhibition are Rachel Andrews. Kelly Bledsoe, Toni Burton, Amanda Campbell, Andrew Deel, Clarissa Dickey, Holly Gillenwater, Matthew Goins, Aubrey Hacket, Rachel Hall. Katherine Harris, Joy Helton, Eishichi Iramina, Catherine Marrs, Diana May Rice, Taylor Mitchell, Don Pesce, William Rigg, Desty L. Sacksteder, Debbie Serrer, Luke Shipp, Bryson Smith, Megan Turner, Irene Ward, Hannah Williams, and Stephen Wisebaker.
---
The African American Visual Artists Guild's The Artist's Life
May 23 - June 24, 2022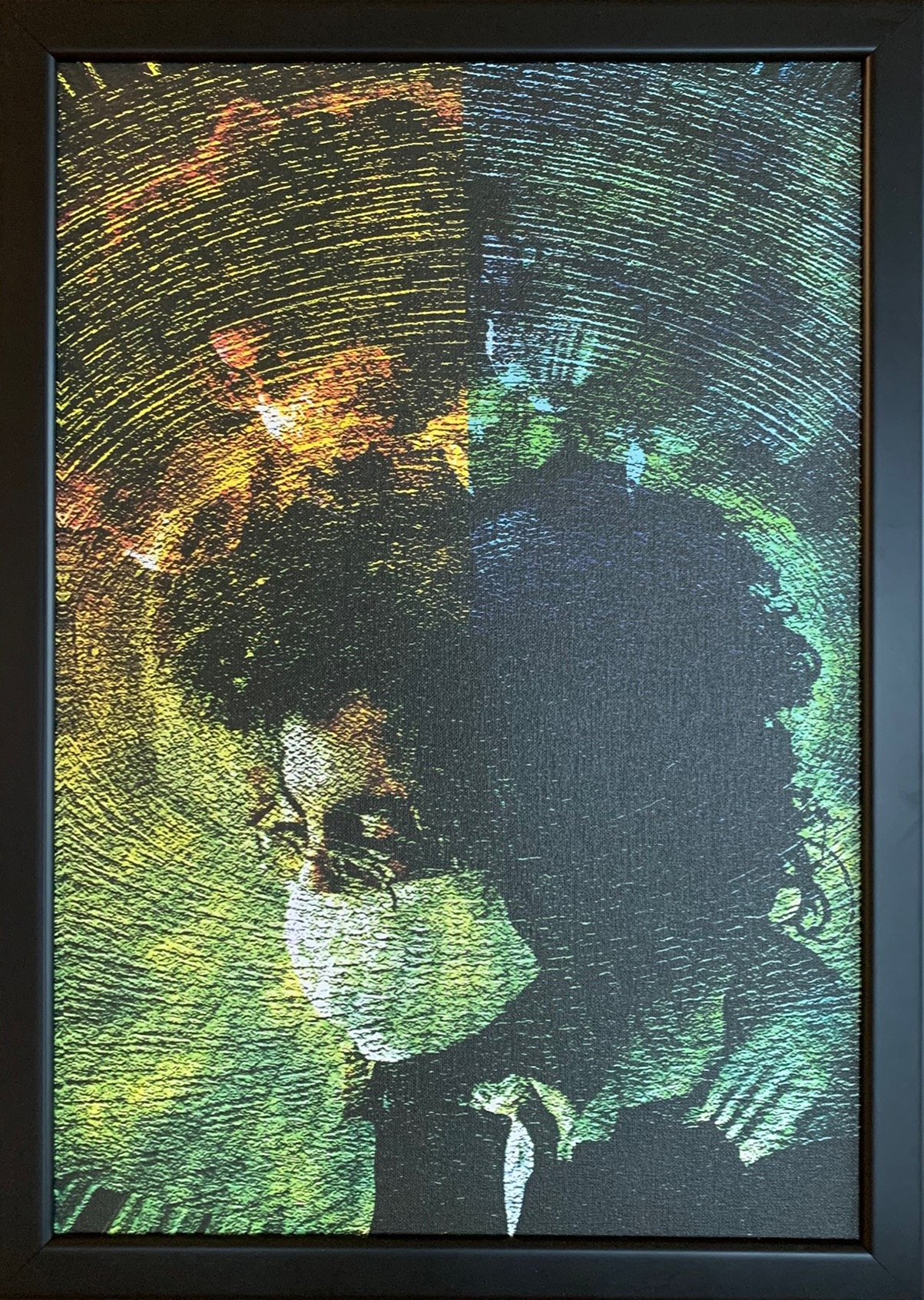 The Sinclair Art Department is thrilled to announce the reopening of the Burnell R. Roberts Triangle Gallery with the African American Visual Artists Guild's The Artists Life Project.
After shuttering their physical doors in early 2020 due to the Covid-19 Pandemic, Sinclair's galleries will again exhibit physical artwork. This begins with a local arts organization, The African American Visual Artists Guild (AAVAG). AAVAG's current traveling Exposition through Art Program named The Artist's Life called for artists to create and share something of themselves – their development and/or journey as an artist, an important or meaningful event or person, portraits of themselves, or samples of the other artistic skills they possess. The exhibition includes AAVAG members as well as their invited guests.
The exhibition will open Monday, May 23 and run through Friday, June 24, 2022. Gallery hours are from 8am-6pm Monday-Friday and the gallery is on the 4th Floor of Building 13, located at the intersection of W 5th Street and S Perry St, Dayton. Both street and garage parking are available.
Artists include Andrea Cummings, Daniel Tristan Cupp, Yvette Dalton, Dwayne Daniel, Bing Davis, Horace Dozier Sr., LaChrisa Gales, Janyce Glasper, Erin Smith Glenn, Al Harden, Kevin Harris, Morris Howard, Constance Storme Johnson, Lois Fortson Kirk, Clarice Moore, Simeon Oyeyemi, David Redmon, Craig Screven, and Debra Richardson Wood­­­­.
AAVAG is a non-profit organization made up of both amateur and professional artists. In 1992, the organization was founded by professional artists Curtis Barnes, Sr. and Willis "Bing" Davis to support the efforts and development of its member-artists who create in various media focusing on African American themes. AAVAG also endeavors to support youth art programs and is committed to cultivating a deeper appreciation for its art in the region. More information may be found at aavag.org.