Respiratory Care
Respiratory Care is a career for highly motivated individuals seeking to apply their technical, scientific, and human relation skills in the fast-paced environment of health care. Respiratory Care Practitioners (RCPs) are highly respected members of the health care team responsible for the prevention, treatment, management, and rehabilitation of people of all ages with lung and medical problems such as:
Emphysema
Chronic bronchitis
Cystic fibrosis
Croup
Heart attack
Paralysis
Pneumonia
Drug overdose
Asthma
Postoperative complication
Stroke
Respiratory distress and failure
Your Next Step:
Contact Respiratory Care Administrative Assistant Audrey Muslar at 937-512-2268 or audrey.muslar@sinclair.edu to schedule a consultation OR complete this contact form for more information about enrolling in the Sinclair Respiratory Care program:
Why major in Respiratory Care?
Our program is specifically designed to provide you with the educational skill development and clinical experience to function under medical direction as a competent respiratory care practitioner. The coursework for this program ranges from human biology to pathophysiology and respiratory critical care to pediatrics.
Respiratory care practitioners' daily routine may involve:
Working with sophisticated equipment in the adult, pediatric, or newborn intensive care unit
Assisting patients in the recovery room or labor and delivery room
Administering drugs and breathing treatments
Performing pulmonary function testing,
Participating in cardiopulmonary resuscitation (CPR)
Providing rehabilitation to patients in the hospital, subacute facility, or home
And discussing patient care plans with physicians, nurses, and other members of the health care team.
Contact Info:
Building 14, Room -319
P: 937-512-2268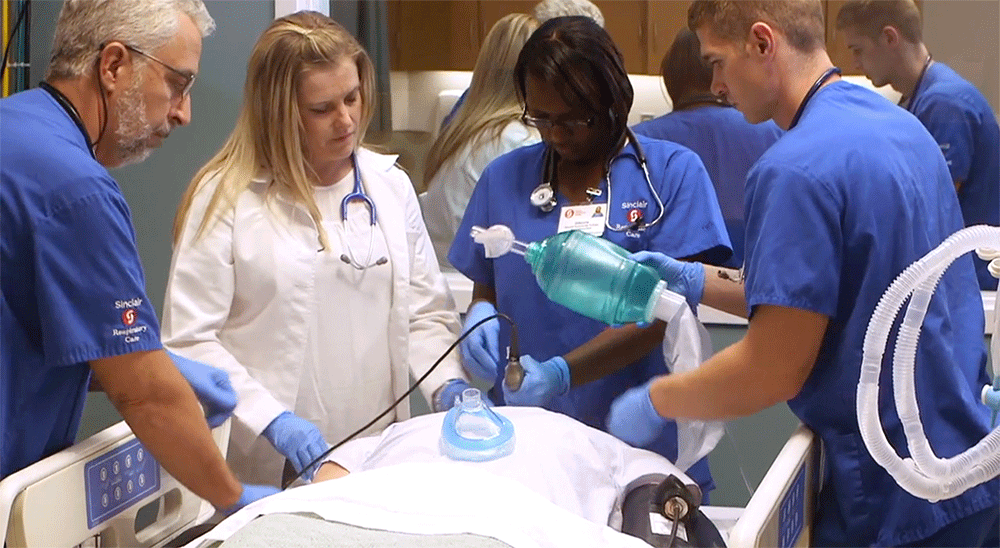 Available Programs
For program specific information click on the program below:
---
Important Information about Health Sciences Programs: The Health Sciences (HS) Programs consist of open enrollment courses (general education and division specific) and program specific courses with limited enrollment. The open enrollment courses may be taken prior to entry into the limited enrollment courses. To qualify for entry to limited enrollment courses, please see the program specific information packet located on each HS program's webpage.