Faculty and Staff Resources
Welcome to the Faculty/Staff page of the Instructional Design Department!
Course Contacts
For questions regarding maintenance for your online, blended, online with scheduled meeting times, or FlexPace course, contact the instructional designer assigned to your division.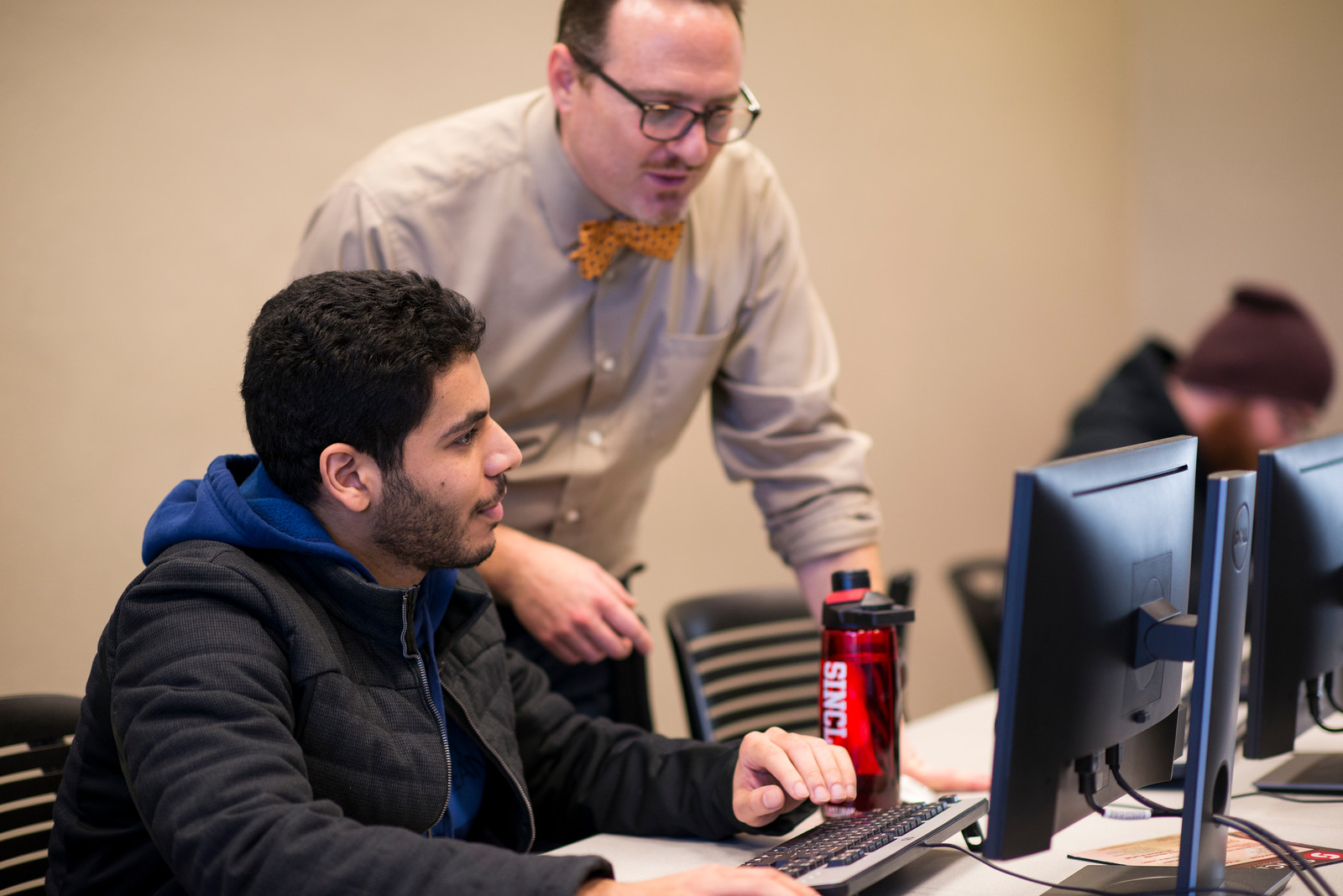 Business Public Services
Brenda McKinley
P: 937-512-5198
E: brenda.mckinley@sinclair.edu

Health Sciences
Johanne Doty
P: 937-512-4064
E: johanne.doty@sinclair.edu

Liberal Arts, Communication, & Social Sciences
Kris McMaken
P: 937-512-3399
E: kristine.mcmaken@sinclair.edu

Advanced Job Training
Jennifer Davis
P: 937-512-3674
E: jennifer.davis@sinclair.edu

Science, Mathematics, & Engineering
Sharon Tjaden-Glass
P: 937-512-3112
E: sharon.tjaden-glass@sinclair.edu
---
Course Development Modalities
The instructional design team develops and supports courses in many different modalities. The descriptions below correspond to what students see when deciding on a modality to register for courses.

Online
Online courses offer all learning activities through eLearn, Sinclair's learning management system. Tests are usually given online through eLearn, but not in all online courses. Proctored testing may be required. You have the freedom to login and do your work when it fits your schedule. However, assignments have deadlines just like in-person courses. Good skills in time management, studying, communicating, self-motivation, and technology are needed.

Blended
Course meets in person on scheduled day(s) and time(s) with online content. Check the schedule to confirm days and times your class will meet in-person. Requires computer and high-speed internet. Depending on the term in which the course was designed, a blended course may be a true in-person and online split, a course with online requirements and in-person specific sessions, or other approaches.

FlexPace
FlexPace, or competency-based education (CBE), courses allow you to move through courses as you demonstrate competency, which means you may be able to complete assignments faster and even complete whole courses faster than other types of courses. Course content is usually delivered fully online, although some courses may require in-person activities like labs, presentations, or tests. You have the freedom to login and do your work when it fits your schedule and have flexibility with assignment and testing deadlines.

Face-to-Face
In-person courses are taught in a classroom with an instructor present. You may think of these courses as traditional college courses. The instructor might use eLearn to provide students with some online materials, online quizzes or exams, or other technology-enhanced content.
---
Online Scheduled
Online scheduled courses meet synchronously online through the use of virtual tools such as Zoom on scheduled dates at specified times. The remaining portions of the course are delivered asychronously online similar to an online course. Course materials are housed in eLearn which is also used to deliver the course. Prior to summer 2022, these courses were called Virtual courses. Each course is unique in its design and structure.
eLearn Information
Browsers and System Check
Before starting with eLearn, make sure you run a system check to ensure your machine and its included apps, software, etc. are compatible with D2L Brightspace. You can also check Browser Compatibility/Supported Browsers to ensure yours will work.
eLearn Hub
Sinclair's robust and faculty-centered eLearn Hub ensures you're on the right path to success using the eLearn LMS and other tools (requires login).
D2L Support
eLearn support is available through eLearn training here at Sinclair. However, you can also check out D2L Brightspace's Community for their documentation and support as well.
Resources
Links to the following require a Sinclair Community College username and password:
Beginning of Semester Course Readiness Checklists - Use these "Preparing your Course" checklists to assist based on modality.
Requesting Course Development - form to request the Instructional Design team's support in formal, aligned course development (once in, select eLearning > eLearning Curriculum Development/Revision Application).
Quality Matters (QM) - Sinclair's adopted quality assurance framework that guides course development and enables successful course delivery.
QM Approved Courses - A list of Sinclair courses certified as meeting Quality Matters standards at the college.