Accelerate IT
Whether you're new to IT or have years of experience, Sinclair's competency-based online courses help you get ahead in this growing field. Watch the video.
Accelerate IT programs include courses in:
The flex-paced courses can be completed around your schedule—so you learn at the speed that fits your lifestyle.
Learn foundational skills to build your career, or increase your earning potential by completing a new certification. The speed of learning is up to you! Accelerate to finish faster or take a break when life gets busy.
Unlock your potential by learning the skills you need to grow your IT career.

Study completely online, at a pace that fits your lifestyle
Receive personalized Academic Coaching
Start with the basics or complete advanced certifications

Earn credit for your current expertise, and study only what new skills you want
Sinclair offers a wide variety of
online courses across multiple majors.
Click here to learn more.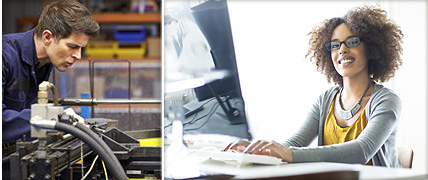 *2.0 minimum GPA required. Accelerate IT students must be self-directed, highly motivated and comfortable learning independently. Students with previous college credits or professional experience in IT are especially well suited.
This product was funded by a grant awarded by the U.S. Department of Labor's Employment and Training Administration. The product was created by the grantee and does not necessarily reflect the official position of the U.S. Department of Labor. The Department of Labor makes no guarantees, warranties, or assurances of any kind, express or implied, with respect to such information, including any information on linked sites and including, but not limited to, accuracy of the information or its completeness, timeliness, usefulness, adequacy, continued availability, or ownership.