Annual Safety Awareness Expo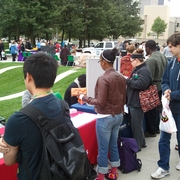 The 32nd Annual Sinclair Safety Awareness Expo, co-sponsored by the Miami Valley Crime Prevention Association, will be held in September 2019 at Building 14. Click on the link in the left side navigation pane to register for the event. For information on Sinclair Safety Awareness Expo events, contact Officer Benjamin Belcher or Officer Tracey Brown at 937-512-2700 or benjamin.belcher@sinclair.edu or tracey.brown@sinclair.edu.
Special thanks to our prime 2017 and 2018 sponsor: Miami Valley Crime Prevention Association
The state's oldest operating non-profit crime prevention association is located right here in the Miami Valley. This site provides you with a local resource to contact your local crime prevention officer or access a variety of safety brochures.