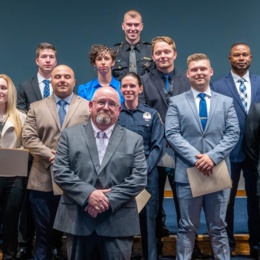 Sinclair Community College honored and recognized a dozen cadets graduating from the Sinclair Police Academy on May 23, 2022. The cadets represent the academy's 122nd graduating class.
The graduates completed 740 hours of required training through the Ohio Peace Officer Training Academy and 41 hours of additional training. The cadets also received instruction in 13 different areas including first aid, CPR, building searches, and, new this year, a 3-hour training in the use of drones.
Two of the cadets have already secured employment once they pass the state certification exam. One of those cadets will be a part of the Sinclair Police Department.
The Sinclair Police Academy conducted its first basic police academy in 1989. Since then, approximately 2,300 cadets have successfully completed the program. Learn more about Sinclair's Police Academy and the Criminal Justice Program at sinclair.edu/trainingacademy.