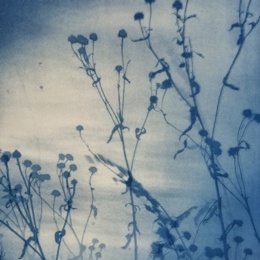 The Sinclair Community College Art Department is pleased to present work by Rachel Abrams and Christina Humble in the Burnell R. Roberts Triangle Gallery and fiber work by Katrina Majkut in the Works on Paper Gallery.
Rachel Abrams's studio practice is centered on environmental concerns and conservation. Her current body of work focusing on studies of water includes the disappearance of glaciers, restorative aquaculture, and bleaching of coral reefs amongst others. A wide variety of media is utilized, many reclaimed, including fiber, plastics, and paper.
Christina Humble utilizes digital art and historic photographic processes including Cyanotype and Van Dyke Brown prints to explore the boundary between memory and reverie. Sharp geometric shapes float in space amidst soft organic foliage to describe nostalgic, unarticulated memories.
Katrina Majkut's series, In Control, rejects the stereotypical domestic functionality of samplers. Her stitched still lifes focus on products related to women's health, the body, and family planning. The commercial packaging pictured is often in contrast to their subjective, weighted political underpinnings.
There will be a virtual artist talk via zoom on September 29, 2023, at 12:00 p.m. Visit www.sinclair.edu/artgalleries for details.
The exhibitions will be on display from September 21–October 25, 2023. Galleries are located on the fourth floor of Building 13 (located at West Fifth and Perry Streets). The galleries are free and open to the public from 8 a.m. – 6 p.m. Monday – Friday and 9:00 a.m. – 12:00 p.m. Saturdays.