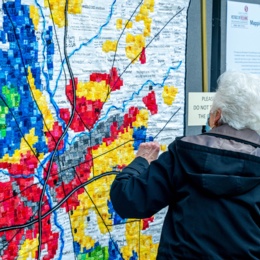 Sinclair Community College Geography students are using the power of maps to inspire conversations about equity in the Dayton region at this week's "Imagining Community Symposium" being held at The Hub at the Dayton Arcade, 35 W. Fourth Street in downtown Dayton.
Six students in Sinclair's Geography Department spent the past several months using the skills they learned in the classroom to create 55 maps as part of the "Vestiges of Redlining: Mapping Equity in Dayton" exhibit. The student exhibit uses the power of maps to explore how and why some communities in the Dayton region have more or less resources and opportunities than others, and to begin conversations about how the community views, conceptualizes, and responds to racism.
"Sinclair's Geography students embraced this opportunity to apply their education and training to give a unique visual representation of the challenges facing our communities through mapping," said Dr. Jacqueline Housel, Chair – Sinclair Community College Department of Sociology, Geography and Social Work. "Projects like this provide incredible value to our students who gain impactful experience that they can apply in their careers after graduation."
The exhibit was featured last year at Sinclair's Equity Summit and as part of the "Undesign the Redline" exhibit that was on campus in November. Sinclair's Geography Department worked with
the Equity Planning Committee to identify themes for the exhibit including redlining, health, education, green space, and police violence. The students also enlisted the help of Sinclair's graphic design faculty to create the overall layout and look of the exhibit.
"Vestiges of Redlining: Mapping Equity in Dayton" is a traveling exhibit is available for display at local schools, community conferences, libraries, and museums.
Through Sinclair's Geography Department students can earn an Associate of Applied Science in
Geospatial Technology, an Associate of Arts in Geography, and short-term technical certificates in Geographic Information Systems and Geospatial Technology Programming Specialist. To learn more about Sinclair's Geography Department, visit sinclair.edu/geography.