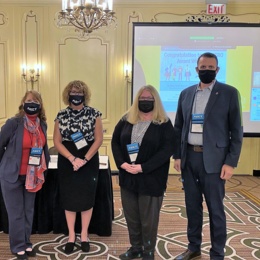 Sinclair College's eLearning Division is receiving national recognition for its innovative efforts to serve students during the COVID-19 global pandemic. Sinclair's eLearning Division is being recognized with the Higher Education HERO Award from the Association for Educational Communications and Technology (AECT).
The HERO Awards, Honoring Educational Revolutions in Online Practice, recognize innovative uses of educational technology in response to the COVID-19 pandemic's impact on teaching and learning.
Sinclair's award-winning project, "Trekking a New Path to Professional Development – Sinclair's Boot Camp for Faculty and Staff in Higher Education," rapidly trained faculty to develop eLearning courses based on the lessons learned from the pandemic. Launched in the fall 2020 term, the program expedited previously formal and lengthy course development processes and resulted in 100 new online and blended courses in its first offering, created by 165 faculty (including 33 with no previous course development experience). The accelerated timeline saved the college nearly $2.5 million in costs compared to traditional development.
"The efforts of Sinclair's eLearning Division were absolutely remarkable and required significant collaboration among all divisions to ensure our students could successfully continue their education during the COVID-19 global pandemic," said Dr. Steve Johnson, President – Sinclair College. "These extraordinary efforts reflect our ongoing mission to find the need and endeavor to meet it by confronting challenges head-on with innovative strategies."
Sinclair's Boot Camp project led to a 400% increase in bended course offerings leading to more than 10,500 students taking a blended course, and a 45% increase in usage of eLearn, Sinclair's Learning Management System. Additionally, new courses also had nearly perfect accessibility scores for students with disabilities.
For more than forty years, Sinclair's robust distance education, online, and eLearning programs have created opportunities outside the four walls of a traditional classroom. Sinclair's eLearning Division supports faculty and staff in the design of dynamic, accessible, and digitally inclusive eLearning courses and programs. This work enables Sinclair students to achieve their educational goals, attain credentials, enter the workforce, or transfer to a four-year institution.
"We are incredibly honored to receive this prestigious recognition from AECT and celebrate the astounding efforts of eLearning and the dedicated faculty and staff of Sinclair College," added Dr. Christina Amato, Dean – Sinclair College eLearning Division.
Sinclair's eLearning Division received the Higher Education HERO Award at last week's AECT International Convention in Chicago. The Association for Educational Communications and Technology (AECT) is a professional association of instructional designers, educators and professionals who provide leadership and advise policy makers in order to sustain a continuous effort to enrich teaching and learning.
Sinclair College currently offers 61 fully online programs. Over 300 Sinclair courses are offered completely online including most general education courses and many core specialized program courses in Business and Computer Information Systems, Health Information Management, Health Sciences, Computer Information Systems, Criminal Justice Science, Management, and more.
Learn more about the Sinclair College eLearning Division at sinclair.edu/elearning.
Photo caption:
(L to R) Dr. Ali Carr-Chellman – AECT President Elect, Sinclair College eLearning Division award recipients Brenda McKinley–Senior Instructional Designer, Jenny Davis–Senior Instructional Designer & Quality Assurance Coordinator, and Dr. Chris Prokes–eLearning Strategist and Innovation Lab Manager