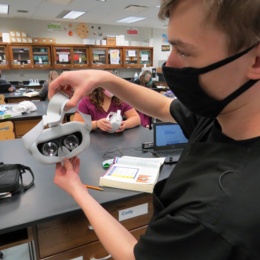 When in-person campus tours were put on hold during the COVID-19 global pandemic, Sinclair College found an innovative solution: 360° virtual goggles. Over the last six months, 3,250 high school students from 21 schools in the Dayton region have "toured" Sinclair College using the advanced technology.
Three 360° videos were produced highlighting Sinclair's Health Sciences programs, HVAC program, and an overview of Sinclair's downtown Dayton campus. Sinclair used 26 virtual goggles which are specially programmed to play the videos when the goggles are worn.
"Sinclair College's mission is to find the need and endeavor to meet it. Our School Partnerships Division put that mission into action by developing an innovative alternative to in-person tours," said Laura Hinkebein, Director – Miami Valley Tech Prep Consortium (MVTPC) – Sinclair Community College. "The 360° virtual videos are a safe and fun option to expose area high school students to the incredible education opportunities at Sinclair."
Sinclair College delivered the goggles to Tech Prep students in schools throughout the Dayton region, bringing the campus experience directly to the students in their classrooms.
Tech Prep enables students to experience a career/technical field of study at the high school level and simultaneously earn college credits with Sinclair College. 15,506 students were enrolled in Tech Prep with Sinclair College during the 2019-2020 academic year.
Sinclair College partnered with a Dayton business, Cody Brown Creative, to produce the 360° videos. The videos are available on Sinclair College's YouTube page. You can utilize the 360° features without the goggles by using your computer mouse.
• HVAC
For safety, each set of goggles was cleaned and disinfected before and after use.
Sinclair College recently shared the goggles with students in the Medical Lab Assisting Program at Miami Valley Career Technology Center (MVCTC).
Surveys of students revealed:
• Overall experience rating: 8.9/10
• 79% say the videos increased their interest in Sinclair Programs
Administrators/Instructors responded to the goggle experience evaluation:
• Overall Experience Rating: 9.8/10
• 9.6/10 for 'would recommend to others'
To learn more about the Miami Valley Tech Prep Consortium and other School Partnerships Programs at: visit: https://www.sinclair.edu/about/offices/sp.