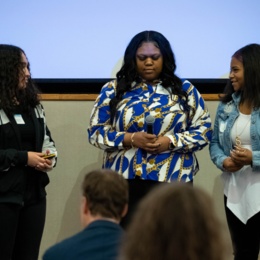 Sinclair Community College hosted its first Regional FlexFactor Competition on Friday, April 29, 2022. Ohio Lt. Governor Jon Husted offered words of encouragement and inspiration to the 10 teams representing five high schools throughout the Dayton region.
Winning Teams – Sinclair College 2022 Regional FlexFactor Competition:
1st Place – Miamisburg High School – "The Bully Tulli" - Shelby Bettendorf, Summer Wright, and Brooke Steinbrunner
2nd Place – Shawnee High School – "2 Sense" - Sariah Echols and David Hawk
3rd Place – Shawnee High School – "The Piller" - Audrey DeSantis and Abigail Klemmensen
Throughout the past year, 67 teams from five school districts competed in FlexFactor competitions at their high schools. 10 of the winning teams moved on the regional competition at Sinclair Community College.
FlexFactor, developed by NextFlex, introduces students to manufacturing and engineering. Since launching the program in 2021, Sinclair Community College has introduced FlexFactor to more than 200 students in seven high schools in the Dayton region. The students work in teams to identify a real-world problem, develop a product or process to address the problem, determine how technology can be utilized to improve the product, and build a business model around it. At the end of the 5-week program, the students pitch their concepts and business plans, shark-tank style, to a panel comprised of Dayton region business, education, and community professionals. Sinclair's FlexFactor initiative is made possible through a $560,000 Manufacturing Engineering Education Program (MEEP) grant from the U.S. Department of Defense.
"The Dayton region relies on Sinclair College to provide a highly-skilled workforce and by using the FlexFactor program, we are exposing a new generation to tremendous career opportunities in high-tech, growing fields including computer aided manufacturing, automation and control technology with robotics, industrial maintenance, and supply chain management," said Dr. Anthony M. Ponder, Provost – Sinclair Community College.
Judges for the Sinclair College 2022 Regional FlexFactor Competition:
Matthew (Matt) Winkle – Associate Director for the Office of Career-Technical Education, Ohio Department of Education
April Vanover-Fastlane – Workforce Development and Government Relations Managing Director, UDRI
Cassie Barlow, PhD – President, Strategic Ohio Council for Higher Education (SOCHE)
Ronald Ulrich – Chair, Sinclair Community College Advanced Manufacturing & Industrial Engineering Technology
Rachel Johanson – Deputy Director, Governor's Office of Workforce Transformation
Nina Joshi – President and CEO, UES, Inc.
Giorgio Bazzan – Program Manager, Air Force Research Lab (AFRL) Manufacturing and Industrial Technology Division
First place students in the 2022 Regional FlexFactor Competition will each receive $500 scholarships through the Sinclair Community Outreach Grant.
The MEEP Grant funding is allowing Sinclair College to serve at least 300 high school students in the Dayton region. Interested school districts can contact Julie Huckaba, Sinclair College FlexFactor Project Manager by calling 937-478-2463 or email julie.huckaba@sinclair.edu. Learn more at: sinclair.edu/flexfactor