Professional Pilot
AVT.S.STC
Short-term Technical Certificate - 20 - 21 Credit Hours
Division: Science, Mathematics and Engineering
Department: Aviation Technology
Effective as of Fall 2018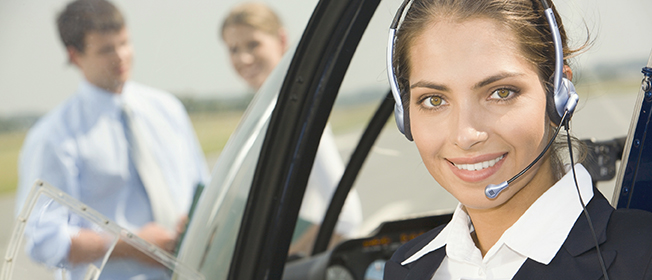 What is the program about?
This program is designed to allow the student to earn FAA certificates and ratings to become a professional pilot. The student, having completed this course work, will have the background and skills to enter the aviation industry as a professional pilot or continue towards a Bachelor's degree in aviation science (or a related field). Students may choose fixed-wing (airplane single engine and multi-engine) or helicopter certifications. The student must obtain a Federal Aviation Administration (FAA) Third (3rd) Class medical certificate prior to enrolling in ANY flight lab. In addition to standard tuition fees, there are additional lab fees for each flight lab in the program. These lab fees are structured to cover the costs associated with the minimum flying hours required for each FAA certificate. Any additional flying time costs beyond the FAA minimums covered by the lab fee must be borne by the student. See the Department for the latest lab fee costs.
Program Outcomes
Comprehend and apply aviation theory, business, and leadership principles to serve in the capacity as a professional pilot in airline, corporate, or helicopter operations.
Exemplify a high standard of ethical and professional behavior.
Demonstrate a thorough knowledge of aviation standards and their application as a professional pilot in aviation operations.
Career Opportunities
Career opportunities are available in airline, corporate, and general aviation. The current U.S. Bureau of Labor Occupational Outlook for Airline and Commercial Pilots projects five percent growth through 2024, and the expectation is there will be massive demand beyond that point due to a large wave of pilot retirements and the need to backfill the supply of pilots for commercial pilot roles of all sorts. This involves not only airline positions, but general aviation careers such as flight instruction, corporate flying, and business air services. Employment of pilots is projected to grow 10 percent through 2024, faster than the average for all occupations.
Transferability
Formal articulation agreements with other colleges and universities indicate how Sinclair programs and courses will transfer to other institutions.
Credentials
Students earn specific FAA certifications to prepare them with the skills necessary to become a professional pilot in fixed wing aircraft and/or helicopters. Fixed-wing and helicopter students will earn the Private, Instrument, and Commercial ratings, with the Certified Flight Instructor (CFI) and Certified Flight Instructor-Instrument (CFII) ratings optional. The Commercial Multi-engine rating is exclusive to the fixed-wing training program only and is optional.
- View the Master Syllabus - View the Course Schedule
This information is for planning purposes only. Sinclair College will make every effort to offer curriculum listed above but reserves the right to change, add and cancel curriculum offerings for unforeseen circumstances.