Automotive Technology (GM ASEP)
ASEP.S.AAS
Associate of Applied Science - 65 Credit Hours
Division: Science, Mathematics and Engineering
Department: Automotive Technology
Effective as of Fall 2016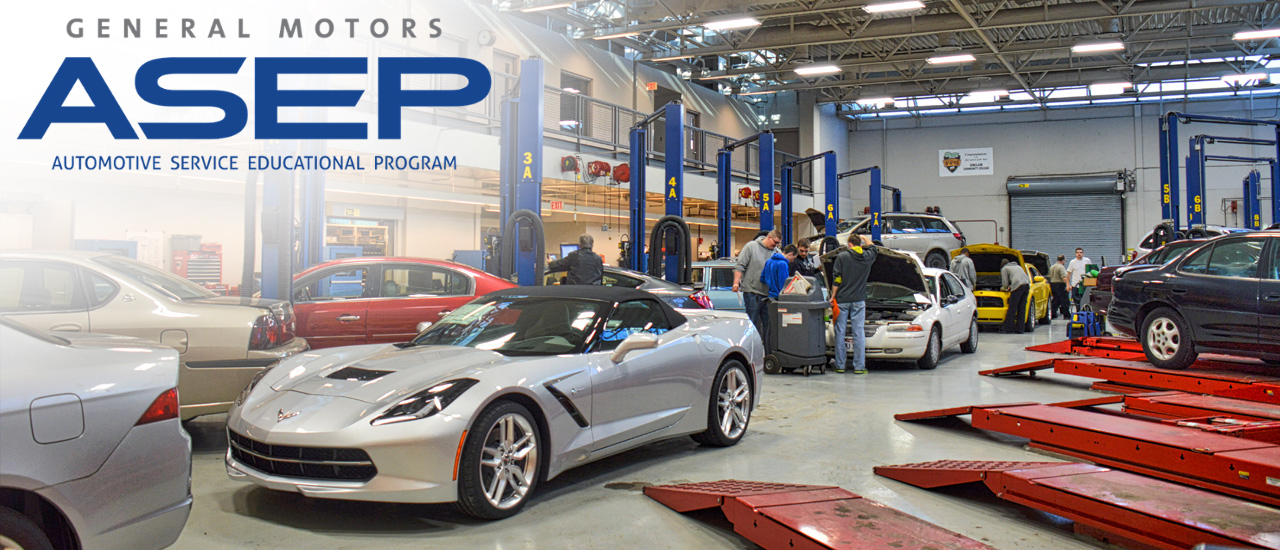 The GM Automotive Service Educational Program streamlines the path to becoming a highly trained automotive technician to less than two years. A greater knowledge base obtained through GM ASEP training will give you a competitive advantage in the workforce and prepare you for a high-tech career. Because of our relationship with General Motors Corporation, GM ASEP students build and refine their skill set while training on current make/model of vehicles with the latest diagnostic tools available.
Learn while you earn!
Students enrolled in the program can gain valuable hands-on experience through the school's paid co-op internship program while achieving college credit for practical work experience.
Questions? Contact us!
Or for any questions regarding the enrollment process or this program contact the ASEP Coordinator, Chuck Taylor at 937-512-2314 or by emailing charles.taylor@sinclair.edu.
What is the program about?
The Associate of Applied Science in General Motors Automotive Service Educational Program (ASEP) provides training for students aspiring to become automotive technicians for General Motors dealerships or AC Delco independent shops. Specific General Motors training is presented to apprentice student technicians as they apply learned content to a co-op work experience. Students attend classes for half a semester and then apprentice at a GM/AC Delco sponsoring dealership the other half. Students are paid for work rendered during the co-op experience. Upon graduation, students will receive hundreds of hours of official General Motors training credits that are recorded in the corporation's training database. Graduates should be 85 to 90% trained towards meeting the certification requirements for a GM Master Technician. Graduates will also receive an Associate of Applied Science from Sinclair along with a job opportunity from the sponsoring dealer.This degree program contains one or more embedded certificates which will be automatically awarded when the certificate requirements are completed. If you do not want to receive the embedded certificate(s), please notify Registration and Student Records at studentrecords@sinclair.edu.
Program Outcomes
Diagnose and repair automatic transmission/transaxle systems, torque converters and 4 wheel drive/all wheel drive systems.
Diagnose and repair manual transmission systems, drivelines and differentials.
Diagnose automotive electrical and accessory system problems. Utilize DVOM meters, scopes and other electrical testing equipment to troubleshoot battery, charging and hybrid propulsion systems.
Diagnose fuel injection, delivery and emission control systems. Utilize scan tools, scopes, DVOM meters and other test equipment in troubleshooting engine and drivability problems.
Apply effective customer communication skills in an automotive service environment. Apply good management skills in operating an automotive service business. Develop and analyze an automotive business facility layout. Demonstrate business computer skills.
Diagnose and repair heating and air conditioning systems including automatic climate-control systems.
Diagnose/repair brake, anti-lock and power booster systems. Diagnose/repair suspension and steering components. Perform vehicle alignments.
Perform entry-level engine overhaul, precision measurements; perform machining and engine mechanical service.
Apply effective customer communication skills in an automotive service environment. Apply good Demonstrate analytical and logical thinking skills in diagnosing mechanical and practical problem scenarios.
Apply effective customer communication skills in an automotive service environment. Apply good Utilize safety and environmental skills in applying automotive service practices.
Transferability
Formal articulation agreements with other colleges and universities indicate how Sinclair programs and courses will transfer to other institutions.
Credentials
The automotive program prepares students to take the automotive ASE tests, which are required to be a certified technician. Through the ASEP, students will be working towards General Motors Master Certification.
- View the Master Syllabus - View the Course Schedule
Program Accreditation Information
The Sinclair Automotive Technology program is an ASE Accredited Training Program at the Master Automobile Service Technology level by the ASE Education Foundation. The ASE Education Foundation was founded as an independent, nonprofit organization with a single mission: To evaluate technician training programs against standards developed by the automotive industry. The ASE Education Foundation accreditation process has resulted in certified automotive training programs in all 50 states at the secondary and post-secondary levels.
This information is for planning purposes only. Sinclair College will make every effort to offer curriculum listed above but reserves the right to change, add and cancel curriculum offerings for unforeseen circumstances.