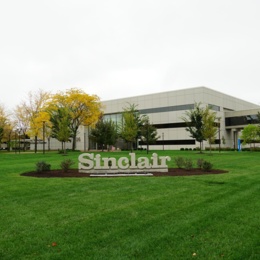 Sinclair Community College's spring term is underway with a continued focus on safety and building on tremendous successes achieved in 2020 despite enormous challenges presented by the COVID-19 global pandemic.
Sinclair is offering approximately 80% of its courses online while the remaining courses are traditional face-to-face instruction with significant safety measures in place. As a result of incredible collaboration among divisions in 2020, Sinclair now offers 58 programs and over 300 courses fully online.
"The phenomenal collaborative efforts of Sinclair's students, faculty, and staff have not only allowed the college to continue offering affordable, quality education during the global pandemic, but to exceed projections and expectations in multiple divisions," said Dr. Steven Johnson, President & CEO of Sinclair Community College. "We are taking the lessons we learned in 2020 and applying them to 2021 as we focus on alignment, equity, and growth to continue to meet the needs of our students and the community."
In 2020, Sinclair's School Partnerships Division was forced to quickly modify operations in collaboration with over 100 school districts to provide college courses online. These efforts resulted in over 8,000 students enrolled in College Credit Plus (CCP) at Sinclair for the 2020-2021 school year…the highest number yet. This is a 136% increase since the inception of CCP at Sinclair in academic year 2015-2016. CCP gives students in grades 7-12 the opportunity to take college courses for free and earn high school and college credit before graduating high school.
Sinclair achieved record enrollment for its Prison Education Program while adapting to providing instruction safely in all 28 of Ohio's prisons. Staff printed over 1.8 million pages of coursework packets for 2020 spring, summer and fall. More than 2,300 participants completed credentials in FY2020. For FY2021, Sinclair is projecting another year of record enrollment with 2,500 individuals participating in the prison education program. Since 2013, Sinclair has seen a 5,233% Increase in certificates completed by incarcerated students. And, as a result of Sinclair's Early Release Initiative, participants spent 57,000 less days incarcerated in 2020.
In 2021, Sinclair continues to offer COVID-19 relief funding to students facing financial hardships and has expanded student counseling services to be available 24 hours a day, 7 days a week.
-more-
Sinclair's 8-Week A Term classes begin on January 11, 2021 and end on March 7, 2021. 12-Week Term classes begin on February 8, 2021 and end on May 9, 2021. 8-Week B Term classes begin on March 15, 2021 and end on May 9, 2021.
Students can apply online at sinclair.edu or contact the Sinclair Admissions Office at 937-512-3675.
Currently, Sinclair College is on pace to meet or exceed enrollment numbers compared to spring of 2020. Several critical business units including College Credit Plus and the prison education program are still processing students. The college will release additional information comparing enrollment to previous years as it becomes available.