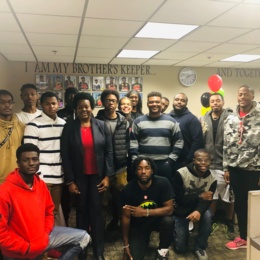 Sinclair's Celebrates Three Years of the African American Male Initiative Student Enrichment Program
Sinclair experienced a 78% increase in African American male graduates since 2018
Dayton, OH – Sinclair College celebrated this month, three years since the establishment of the African American Male Initiative program. The program now serves 70 students, up from 24 students during the initial year.
The African America Male Initiative (AAMI) was designed to address the low college attainment rates for African American men at Sinclair. The program also aims to dramatically improve the quality of life for men of color that choose to attend Sinclair College.
"AAMI has helped me in many ways. From building connections to lifelong friendships," said Kali Muhammad, graduate from Sinclair's Culinary Arts program. "There have been many times when my personal problems have come in the way of my education, and I would not have been able to get through it had it not been for the mentors and support system I had through the AAMI."
Students enrolled in the AAMI are case managed by a Coordinator, who monitors progress, financial aid, advising, and creates customized academic pathways for students. The Coordinator is also responsible for communicating with students about upcoming events, service learning opportunities (on and off-campus), leadership and employment opportunities.
"When I enrolled in Sinclair's Culinary Arts program, my goal was to one day start my own company in the food services industry," said Kali Muhammad. "Less than a year after graduating from the program, I have my own catering business, and I couldn't have done that without Sinclair and the connections I made through the AAMI program."
Over ten years, Sinclair has experienced more than a 400% increase in the number of degrees and certificates awarded to African American male students and over a 200% increase for all minority students. The number of degrees and certificates earned by low-income students has also increased by more than 40% over the past ten years.
Sinclair is recognized as a local and national leader in delivering high quality and affordable higher education. One of the oldest and best-known community colleges in the nation, Sinclair was founded in 1887 by David A. Sinclair and is a board member of the prestigious League for Innovation in the Community College. Sinclair offers more than 260 accredited degrees and certificates. For more information, contact Deena John at 937-272-8208 or deena.john@sinclair.edu
###