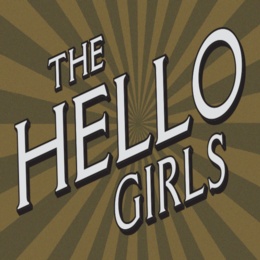 From New York to Paris, from ragtime to jazz: THE HELLO GIRLS chronicles the story of America's first women soldiers in this new musical inspired by true events.
Presented March 24-April 1, 2023, in Blair Hall Theatre, during Women's History Month, Sinclair Theatre is proud to present the true story of the women who answered the call, with music and lyrics by Peter Mills; book by Peter Mills and Cara Reichel.
These intrepid heroines served as bilingual telephone operators on the front lines, helping turn the tide of World War I. They then returned home to fight a decades-long battle for equality and recognition, paving the way for future generations.
The show is directed by Kimberly Borst with music direction by Charles Larkowski and choreography by Jessica Eggleston.
Cast includes: Tracie Puckett-Knight, Aubrie-Lee Dentino, Lizzie Salata, Faeryn Bass, Trinity Le'shae Rice, Tanner Henry, Josh Fisher, Jabari Pritchett, Isaac Washington, Colin Drayer, and Ian Spraul with guest artist, Jeff Sams as General Pershing.
Production staff includes Sinclair Theatre alumnae Sarah Caplan as stage manager and Jessy Henning as lighting designer. Set design by Scott Kimmins, sound design by Dan Brunk and costume design by Ashley Rutkowski.

Tickets on sale NOW at www.sinclair.edu/tickets. Adults $18/Students & Seniors $15.
ASL Interpreted performances on March 26 & 30. Free Parking.
Photo: Tracie Puckett-Knight portrays Grace Banker in Sinclair Theatre's THE HELLO GIRLS, March 24-April 1 in Blair Hall Theatre. www.sinclair.edu/tickets (photo illustration: Patti Celek)