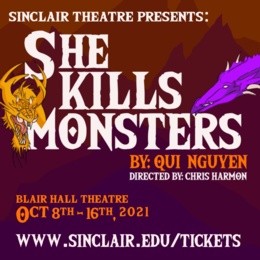 Take a comedic romp into the world of fantasy role play games with Sinclair Theatre's presentation of She Kills Monsters, by Qui Nguyen, Oct. 8-16, in Blair Hall Theatre, in building 2 of Sinclair's downtown Dayton campus.
This high-octane comedy is directed by Chris Harmon and features fight choreography by Joshua Pikar. It's the story of Agnes Evans as she leaves her childhood home in Ohio following the death of her teenage sister, Tilly. When Agnes finds Tilly's Dungeons & Dragons notebook, however, she finds herself catapulted into a journey of discovery and action-packed adventure in the imaginary world that was her sister's refuge.
Tickets cost $18 for adults and $15 for students and seniors. Available online now at www.sinclair.edu/tickets. Reserved seating will be every other row to provide social distancing and masks are required on Sinclair's campus. ASL interpreted performances on Oct. 10th and 14th.
Cast includes:
Agnes: Edith Sandstrom
Tilly: Alexis Paige
Chuck: Tanner Henry
Miles: David Shockey
Kaliope/Kelly: Athena Shurtleff
Lilith/Lilly: Lizzie Salata
Vera, Evil Gabbi: Evette Williamson
Narrator, Evil Tina, Farrah the Faerie: Jada George
Steve: Ian Spraul
Orcus/Ronnie: Christopher Goetz
Monsters: Colin Drayer, Helen Grisez, Emma Campbell
Production team includes:
Dance Choreographer: Jessica Eggleston
Scenic Design: Chris Harmon
Costume Design: Kathleen Hotmer
Lighting Design: Jessy Henning
Sound Design: Dan Brunk
Prop Design: Scott Kimmins
Poster/Program Cover Design: Liv McNamara
Stage Manager: Brian Morgan
Laden with homicidal fairies, nasty ogres and 90s pop culture, acclaimed playwright Qui Nguyen offers a heart-pounding homage to the geek and warrior within us all.
Photo caption: Alexis Paige as Tilly, in Sinclair Theatre's She Kills Monsters, Oct. 8-16, in Blair Hall Theatre. (photo by Patti Celek)