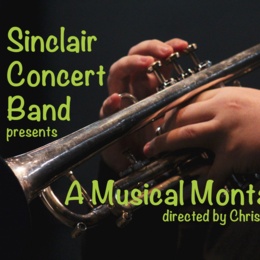 The 2020 Sinclair Concert Band will present "A Musical Montage" as a virtual video on December 16, 2020 at 7 p.m., available on the Sinclair Music Department's Facebook page: @sinclairmusicdepartment.
Under the direction of Chris Braun, the concert features selections by Sousa, Mancini, Giacchino and original compositions by Sinclair Music students Paul Hodson and Dillon Heck. The concert concludes with "Christmas with Sinclair," a special arrangement by Paul Hodson.
Pre-pandemic, Sinclair's Concert Band included music majors and community musicians to create a 50-member ensemble. In order to continue educational opportunities and make music safely, adjunct professor Chris Braun stepped up to create this smaller ensemble to fulfill curriculum requirements for music students. Rehearsals were socially distanced in Blair Hall and musicians wore masks and used bell covers on their instruments so they could continue their passion for music.
Finding appropriate selections for an eclectic ensemble that was heavy on trumpets was a challenge, but it also opened opportunities for the students to write and arrange music.
Paul Hodson's piece, Felix et Infelix, is Latin for Happy and Sad. He says he gave the piece a Latin title with the emotions he felt when listening to the playback. Hodson credits his Sinclair instructors with being supportive of his composing and arranging. "My music classes have helped me become better at composing," says Hodson, "Specifically Music Theory, but the other classes also add to what I've learned in that class."
Ensemble members on recording:
Fred Blackwell - Alto saxophone
Benjamin Knab - Trumpet
Paul Hodson - Trumpet
Dillon Heck - Trumpet
Landon Butcher - Trumpet
Levon Breakie - French horn
Emma Watson - French horn
Terence Kennedy - Trombone
Shane Terrell - Percussion
Craig Moyer - Percussion

The concert was filmed and edited by Chris Braun, a distinguished trumpet performer and educator who earned his master's in trumpet performance from Wright State University and his bachelor's in jazz studies from Ohio State University. He plays principal trumpet with five ensembles throughout the Miami Valley and maintains an active teaching schedule at four educational institutions including Sinclair College. For a complete bio visit Chris' website at: chrisbrauntrumpet.com.