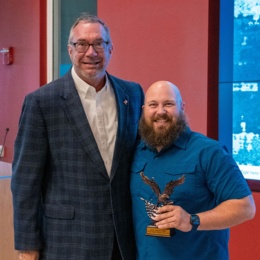 Sinclair Community College is wrapping up Veterans Appreciation Week with the selection and celebration of the 2022 Veteran of the Year. Sinclair student and U.S. Air Force Veteran Kevin Mullinex was nominated by fellow Sinclair students.
"Sinclair Community College is honored to support our veterans and recognize their selfless service and sacrifices this week and every week," said Dr. Steve Johnson, President – Sinclair Community College. "We applaud Kevin for his dedication to his family, friends, and fellow veterans."
Mullinex served with the 445th Maintenance & Civil Engineering Squadron at Wright-Patterson Air Force Base. His nomination described him as:
"Highly reliable and always goes the extra mile to excel in his work. He is quick to smile and has a sense of humor that uplifts his entourage turning frowns into smiles. He is dedicated to helping other Vets and makes sure he finds accurate answers to their questions. He is modest and deserves recognition for his excellent work and kindness."
Sinclair students submit Veteran of the Year nominations to the Sinclair Military Family Education Center (MFEC). The nominated veteran information is submitted to the MFEC Advisory Board with no identifying information and the Board chooses the Veteran of the Year.
Throughout Veterans Appreciation Week, Sinclair held events at the Dayton campus and the regional centers in Centerville, Englewood, Huber Heights, Mason, and Wright-Patterson Air Force Base.
"Sinclair's MFEC is so proud to celebrate our military-affiliated students and show our appreciation for their service," added Becky Jones, Manager, SCO – Military Family Education Center, Sinclair Community College. "We are committed to furthering Sinclair's mission to find the need and endeavor to meet it by providing the services and support our military-affiliated students need to achieve college and career success."
Annually, approximately 2,000 military-affiliated students, including veterans, active duty, spouses, and children, study at Sinclair and receive support and services through Sinclair's Military Family Education Center (MFEC), the Office of Student and Community Engagement, Career Services, and the Office of Work-Based Learning. In 2022, military-affiliated students at Sinclair earned a record number of degrees and certificates (486), a 10% increase over last year.
To learn more about Sinclair's Military Family Education Center, visit sinclair.edu/mfec.
Photo:
(L to R) Sinclair Community College President Dr. Steve Johnson and Sinclair Veteran of the Year Kevin Mullinex.