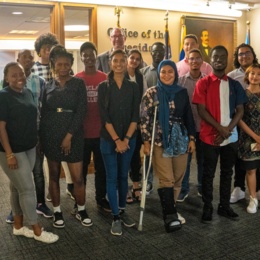 Sinclair Community College is pleased to welcome 16 international exchange students to contribute to our vibrant campus community during the 2022-2023 academic year. The 16 participants are studying at Sinclair as part of the U.S. Department of State's Community College Initiative (CCI) Program. They will join a total of 157 participants from underserved and underrepresented global communities who are studying at nine U.S. community colleges in nine states, gaining skills and experiences needed to enter the workforce.
This year's CCI participants studying at Sinclair are from Indonesia, India, South Africa, Ghana, Ivory Coast, Egypt, Turkey, Colombia, and the Dominican Republic and are studying Agriculture, Business, Engineering, Media and Tourism and Hospitality Management.
The CCI Program is a one-year, non-degree academic program designed to build participants' technical skills, enhance leadership capabilities, and strengthen English language proficiency. The program also provides opportunities for professional internships, service learning, and community engagement activities to build relations between citizens of the United States and other countries.
Last year, CCI participants' volunteer and unpaid internship service translated to an economic contribution of over $1.22 million to local U.S. communities.
"Sinclair College is honored to be a host site for this prestigious program," said Deborah Gavlik, Director of International Education at Sinclair Community College. "Through the CCI program, many of these participants are receiving a once-in-a-lifetime chance to experience exceptional academic opportunities at Sinclair College."
The participants also bring diverse, global perspectives to classrooms, campus life, and local organizations. According to Open Doors 2021 data, only six CCI countries are represented in the top 25 places of origin of international students studying in the United States. The diversity of CCI participants helps internationalize U.S. campuses and provide domestic students with an opportunity to prepare for their role as global citizens.
After completing the CCI Program, participants return home with a deeper understanding of U.S. culture and with improved technical and vocational skills to contribute to the economic development of their home communities. Since 2007, the CCI Program has hosted more than 3,500 participants from 28 countries.
This U.S. Department of State program is administered by Northern Virginia Community College (NOVA) in cooperation with the NOVA-led Community College Consortium. For further information, please contact the NOVA CCI Team at CCCIP@nvcc.edu and the Bureau of Educational and Cultural Affairs at eca-press@state.gov.