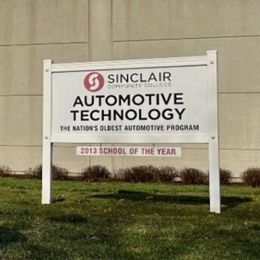 Sinclair Community College is sparking conversations about electric vehicles with two public Q&A sessions. The free information sessions are funded through a $153,000 Zero Emission Vehicle (ZEV) Education and Awareness, STEM and Workforce Development grant from Electrify America.
Sinclair's renowned Automotive Technology Department will host the Q&A sessions and provide valuable insights into the world of electric mobility, aiming to educate and engage the community in conversations about ZEVs. The sessions will also include hands-on demonstrations and discussions about efforts to increase the ZEV charging infrastructure across the country.
The first ZEV Q&A session will take place at Sinclair Community College in conjunction with the conclusion of Drive Electric Week on September 27, 2023.
Zero Emission Vehicle Public Q&A Session 1
Sinclair Community College
Building 20, John E. Moore, Sr. Technology Center
220 S Edwin C Moses Blvd, Dayton, OH 45402
(Enter the parking lot from Fifth Street)
Wednesday, September 27, 2023
7:00 p.m.
To learn more about registering for the Public Q&A session, visit https://sinclaircc.wufoo.com/forms/zxgmiqr05y0spw/.
"Sinclair Community College is excited to offer these public Q&A sessions about electric vehicles as part of our commitment to educating our community about the latest developments in automotive technology," said Justin Morgan, Chair Sinclair Community College Automotive Technology Department. "Electric vehicles are becoming increasingly important, and we want to ensure that the public has the knowledge and resources they need to make informed decisions about their transportation options."
Sinclair's second electric vehicle Q&A session will be held at the Dayton Metro Library location in downtown Dayton in December. Details of the specific date and time will be released in the coming weeks.
The Electrify America funding is also allowing Sinclair to provide free training and information sessions for automotive technicians and high school students to help meet the growing demand for skilled electric vehicle maintenance and repair workers.
Sinclair Community College also received a $600,000 grant from the National Science Foundation to create industry-supported educational resources to increase the capacity of accredited postsecondary institutions nationwide to train automotive technicians in EV service and repair. A secondary goal is to enlarge the pipeline of students in southwest Ohio who pursue automotive careers to meet emerging workforce needs for knowledgeable and skilled automotive technicians.
Sinclair Community College is no stranger to electric vehicle training. In the past several years, Sinclair's Automotive Technology Department has offered electric vehicle technology training to instructors from across the country. In addition, Sinclair was named as the Electric Vehicle Association's EV Organization of the year for 2022.
Over the past five years, more than 700 students have graduated from Sinclair's Automotive Technology programs.
To learn more about Sinclair's Automotive Technology degrees and certificates, visit Sinclair.edu/Automotive.