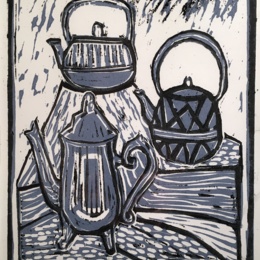 The Sinclair Art Department is pleased to present Student Purchase Award artwork in the Burnell R. Roberts Triangle Gallery and the Works on Paper Gallery at the downtown Dayton campus.
Thanks to the generosity of Burnell R. Roberts, the Mauch Endowment Fund, as well as a small variety of other donors throughout the years, Sinclair has been able to purchase and display over 140 pieces of student artwork throughout Sinclair's Dayton, Centerville, and Englewood campuses.
Each spring, any student who has taken an art class at Sinclair within the last 12 months is eligible and encouraged to submit work created for their classes to the Juried Fine Art Students' Exhibition. During the exhibition, new works of art are selected as purchase awards. These works of art are acquired and added to the college's art collection.
A 26-piece selection will be on view from Tuesday, July 5, 2022, through Saturday, August 6, 2022. Both galleries are located on the 4th floor of Building 13 (located at Fifth and Perry Streets in downtown Dayton). The galleries are free and open to the public from 8 a.m. – 6 p.m., Monday through Friday.
The student artists included in the exhibition are Rachel Andrews. Kelly Bledsoe, Toni Burton, Amanda Campbell, Andrew Deel, Clarissa, Dickey, Holly Gillenwater, Matthew Goins, Aubrey Hacket, Rachel Hall. Katherine Harris, Joy Helton, Eishichi Iramina, Catherine Marrs, Diana May Rice, Taylor Mitchell, Don Pesce, William Rigg, Desty L. Sacksteder, Debbie Serrer, Luke Shipp, Bryson Smith, Megan Turner, Irene Ward, Hannah Williams, and Stephen Wisebaker.
To view all of Sinclair's Student Purchase Awards along with their current location around Sinclair's campuses, visit www.sinclair.edu/purchaseawards.
Photo: Three Teapots by Sinclair art student Debbie Serrer- Woodblock Print