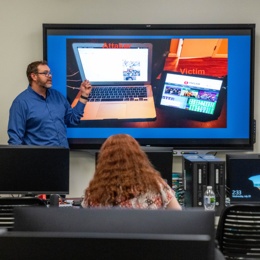 Sinclair Community College is one of three institutions selected by the U.S. Department of Education to offer a new training program designed to strengthen cybersecurity education in high schools. The CTE CyberNet Program is designed to give teachers knowledge and resources they can use to effectively prepare students for cybersecurity courses and careers.
The U.S. Department of Education identified three National Centers of Academic Excellence (NCAE), including Sinclair Community College, which are qualified to "design, host, and lead the inaugural cohort of CTE CyberNet academies." Sinclair offered the week-long CyberNet Program for local K-12 and community college instructors at its Centerville campus July 18-22, 2022. Sinclair was the first to host the regional training event.
"Sinclair Community College is proud to offer the innovative CTE CyberNet Program to empower teachers in the Dayton region with knowledge, skills, and abilities that they can incorporate in their curriculum and prepare students for rewarding, in-demand careers in cybersecurity," said Kyle Jones, Chair/Associate Professor - Sinclair Computer Science and Information Technology Department.
A dozen teachers from the Dayton region spent the week learning about topics including cybersecurity threats, vulnerabilities, and attacks, system and network defense, cloud security, and compliance.
Following completion of the week-long workshop, participants work with a mentor for one-year to help build programs which imbed the resources and curriculum learned in the program.
To learn more about Sinclair's Computer Science and Information Technology degrees and certificates, visit: https://www.sinclair.edu/academics/divisions/bps/cis/

###
?Photo Caption:
Kyle Jones, Sinclair College Computer Science and Information Technology Chair/Associate Professor facilitates a session for teachers on cybersecurity during the CTE CyberNet Academy.
Posted: July 22, 2022