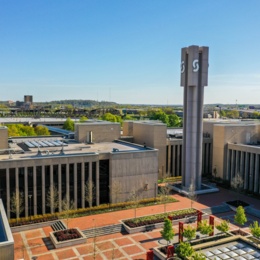 Sinclair Community College is being recognized by Forbes for the second year in a row as one of the best employers in Ohio. Sinclair ranked #5 on the 2022 Forbes Best-In-State Employers in Ohio list. In 2021, Sinclair ranked #38.
Forbes partnered with market research company Statista to compile the list, which ranks employers in 50 states and the District of Columbia, by surveying 70,000 Americans working for businesses with at least 500 employees. The anonymous ratings were then compiled to rank up to 101 employers in each state, depending on the size of its workforce. Sinclair currently has approximately 2,500 employees.
"Sinclair's faculty and staff never lose sight of our mission to find the need and endeavor to meet it. Their dedication to our students and innovative spirit allow us to serve our students through high-quality, affordable education that prepares them for rewarding, in-demand careers. Sinclair's employees are some of the best and brightest in their fields and we recognize that they could work at any institution, but they have chosen to work at Sinclair," said Dr. Steve Johnson, President of Sinclair Community College.
The respondents were asked to rate their employers on a variety of criteria, including safety of work environment, competitiveness of compensation, opportunities for advancement and openness to telecommuting. Statista then asked respondents how likely they'd be to recommend their employer to others. The number of businesses ranked in each state was dependent on two factors—the number of qualifying employers and the size of the state's workforce.
To view the rankings, visit: forbes.com/lists/best-employers-by-state