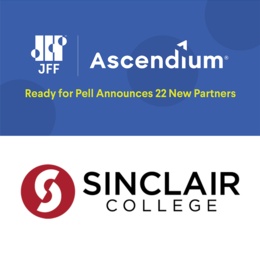 Sinclair Community College is one of 22 institutions across the nation selected to receive grant funding to support prison education through Jobs for the Future (JFF) and the Ascendium Education Group's Ready for Pell Initiative. Ready for Pell is designed to help institutions that provide postsecondary education in prisons navigate the upcoming changes to the Pell Grant program for student financial assistance, giving learners who are incarcerated new opportunities for educational attainment and increased economic mobility.
Sinclair will receive up to $120,000 in funding to expand postsecondary education for its prison program in advance of the restoration of Pell Grant eligibility in 2023. Since 1994, people who are incarcerated have been prohibited from receiving Pell Grants. A Pell Grant is awarded to low-income students by the U.S. Department of Education and is used to pay for college.
Sinclair's Advanced Job Training (AJT) program provides postsecondary education and related programming to individuals incarcerated through the Ohio Department of Rehabilitation and Corrections (ODRC). As part of the Ready for Pell initiative, Sinclair's AJT plans to build enrollment and expand the program to include associate of applied science degrees that lead to bachelor's degrees, associate of applied arts degrees, and associate of technical study degrees.
"Sinclair Community College is proud and grateful to be selected for this new initiative that will allow us to expand our efforts to prepare incarcerated individuals for career opportunities through skills training and college-level courses," said Cheryl Taylor, Chief Officer – Sinclair Community College Advanced Job Training & Returning Citizen Initiative. "Despite the enormous challenges presented by the COVID-19 global pandemic, Sinclair's AJT program has experienced extraordinary growth as we continue to provide these critical services to prepare individuals for meaningful employment after release."
Sinclair's AJT Program provides education and skills training in all 28 ODRC prisons and six juvenile facilities. Enrollment in Sinclair's prison education program more than doubled from 2020 to 2021. Today, more than 5,000 incarcerated individuals are enrolled in college courses through Sinclair's AJT Program. Sinclair offers 40 associate degree and certificate programs to incarcerated individuals. Each program provides training in areas in which returning citizens can obtain employment upon release. In 2021, Sinclair's prison education participants earned over 5,300 certificates and degrees. 360 associate degrees have been awarded since 2020.
According to the Vera Institute for Justice's 2019 report, Investing in Futures, nearly 500,000 currently incarcerated people would be eligible for Pell Grants. Research shows that people who participate in college-in-prison programs are far more likely to find stable, family-supporting employment after their release and far less likely to return to prison.
With eligibility returning in 2023, the Ready for Pell initiative will help institutions enhance program quality and ensure eligible students are able to access and maximize the use of Pell funds as they pursue postsecondary education in prison and beyond.
###
About Jobs for the Future (JFF)
JFF is a national nonprofit that drives transformation in the American workforce and education systems. For nearly 40 years, JFF has led the way in designing innovative and scalable solutions that create access to economic advancement for all. www.jff.org.
About Ascendium Education Group
Ascendium Education Group is a 501(c)(3) nonprofit organization committed to helping people reach the education and career goals that matter to them. Ascendium invests in initiatives designed to increase the number of students from low-income backgrounds who complete postsecondary degrees, certificates and workforce training programs, with an emphasis on first-generation students, incarcerated adults, rural community members, students of color and veterans. Ascendium's work identifies, validates and expands best practices to promote large-scale change at the institutional, system and state levels, with the intention of elevating opportunity for all. For more information, visit https://www.ascendiumphilanthropy.org.