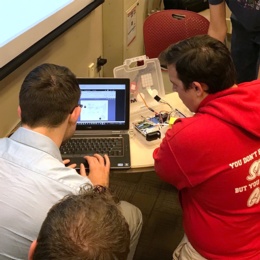 Sinclair Community College has received more than $646,000 in grant funding from the National Science Foundation (NSF) to use game-based learning to enhance cybersecurity technician training. Sinclair Community College Professor of Computer Science and Information Technology, Dr. Mike Libassi, developed Sticker Heist that will be used to strengthen efforts in building a skilled and diverse cybersecurity workforce.
Sticker Heist is a self-contained portable security system protecting a locked box of laptop stickers. Teams of students work together to gather information on the system and identify the security flaws and vulnerabilities that will allow them to open the box. Sticker Heist helps students think critically and creatively while learning the basics of cybersecurity.
"As cybersecurity threats evolve at an unprecedented rate, Sinclair Community College continues to identify innovative ways to provide students with practical and real-world training experiences," said Dr. Mike Libassi, Sticker Heist developer and professor of Computer Science & Information Technology at Sinclair Community College. "Sticker Heist offers an exciting platform that combines gaming with cybersecurity challenges, creating an effective and interactive learning environment for students. Sinclair is grateful to the National Science Foundation for supporting this initiative."
The goal of the three-year grant project is to increase the number of qualified cybersecurity technicians in the southwest region of Ohio through effecting training and recruitment. The project involves three major strategies:
• Refinement of the Sticker Heist game hardware, activities, and curriculum,
• Training K-12 and post-secondary faculty in the delivery of Sticker Heist activities and
curriculum, and
• Evaluating game-based learning as a tool to recruit and produce a more engaged and diverse cybersecurity workforce.
Through the grant, Sinclair Community College will plan and deliver professional development training for K-12 and/or dual enrollment faculty on the implementation of Sticker Heist in their classrooms and promote the use of Sticker Heist to attract underrepresented students to the cybersecurity workforce through demonstrations, recruitment events, and clubs.
Sinclair Community College will engage multiple local partners including the Dayton Regional STEM Center. Moraine Valley Community College outside of Chicago is a subrecipient of the grant project.
According to the U.S. Bureau of Labor Statistics, employment of information security analysts is projected to grow 32% through the year 2032 with approximately 16,800 openings for information projected each year. Over the past five years, nearly 2,400 students have earned degrees and certificates through computer information systems programs at Sinclair Community College.
In 2022, Dr. Libassi also received a grant from the Ohio Association of Two-Year Colleges (OATYC) Teaching Grant Award to improve and update Sticker Heist.
Sinclair Community College currently offers more than 20 Computer Science and Information Technology degrees and certificates. Learn more at Sinclair.edu/Computer-Information.
###