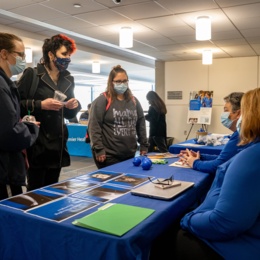 In an effort to meet the critical need for skilled healthcare workers, Premier Health brought its recruitment team to the downtown Dayton campus of Sinclair Community College on Wednesday, January 26th. Nearly 100 students attended the Premier Health Career Day inside Sinclair's state-of-the-art Ned J. Sifferlen Health Sciences Center.
Premier Health is the largest private, nonprofit, comprehensive health care system in Southwest Ohio. Premier Health is currently recruiting for nurses (RN), patient care technicians (PCT), surgical technicians, safety companions, medical assistants, respiratory therapists, patient access, and more.
"The partnerships we develop with higher education institutions allow Premier Health to directly connect with students, share career opportunities, build our workforce, and work together to fill a vital need for healthcare professionals during the COVID-19 global pandemic," said Stacey Lawson, System Vice President and Chief Human Resource Officer, Premier Health.
Sinclair's Health Sciences Division currently offers 58 degree and certificate programs. To assist with meeting the critical need for skilled healthcare workers, Sinclair Community College has expanded the capacity of its Nursing and Respiratory Care programs. Sinclair also introduced a 1-year Medical Assistant technical certificate to help meet demand.
"Sinclair Community College is grateful for the tremendous support from our hospital partners. These relationships are crucial in our efforts to fulfill our mission of finding the need and endeavoring to meet it by providing exceptional education for students who will be working on the frontlines of the COVID-19 pandemic," said Dr. Rena Sebor, Dean – Sinclair College Health Sciences Division.
Since 2016, 728 students have graduated from Sinclair College with Associate of Applied Science Degrees in Nursing. Over the past five years, 110 students have graduated with associate degrees from Sinclair's Respiratory Care Program. Many are now serving on the front lines in Dayton region hospitals, caring for COVID-19 patients.
Learn more about Sinclair's Health Sciences programs at: sinclair.edu/health-sciences
###