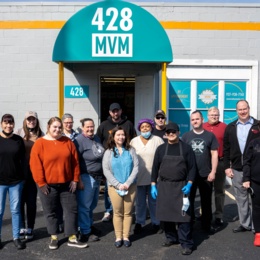 Sinclair Community College is partnering with Miami Valley Meals to provide nutritious, chef-prepared meals to students in need. Each week, Miami Valley Meals is donating fresh and frozen meals including vegan and vegetarian options to the Sinclair Student Food Pantry.
Sinclair Community College established the Student Food Pantry in January of 2020 to provide additional support to students facing food insecurity. All currently enrolled students are eligible to use the Student Food Pantry.
"Sinclair Community College is committed to expanding and strengthening our efforts to support students and through the generosity of Miami Valley Meals, our students now have access to specially prepared nutritious meals," said Matt Massie, Manager – Sinclair Community College Student and Community Engagement. "No student should go hungry, and we are incredibly grateful to Miami Valley Meals for partnering with us to address food insecurity."
Miami Valley Meals, formerly Set the Banquet Table, recovers and transforms donated food into meals which are then distributed through a network of nonprofit partner organizations that feed the hungry.
"Our partnership with Sinclair Community College allows Miami Valley Meals to further our mission of using our culinary skills to provide valuable support to existing organizations, all while
feeding the hungry and reducing food waste," said Amanda DeLotelle, Executive Director – Miami Valley Meals. "We are thankful for the tremendous community support that has enabled our talented team of chefs to provide this critical service to nonprofits in the Dayton region."
The Sinclair Student Food Pantry offers a selection of shelf stable pantry goods, hygiene products, cleaning supplies, diapers, formula, and refrigerated and frozen food items.
A recent survey found that 35% of Sinclair students are impacted by food insecurity. During Fall Term 2021, more than 250 students utilized the Sinclair Student Food Pantry.
In addition to the Student Food Pantry, Sinclair Community College has provided more than $16.5 million from the Higher Education Emergency Relief Fund (HEERF) to assist students with food, housing, course materials, technology, health care, and child-care. An additional $8.5 million is being distributed to students for Spring Term 2022. Other expanded student services include free, confidential 24/7 counseling services, a free mental health app, mobile grocery, mobile health clinic, financial counseling, legal assistance, and medical advocacy services.
Sinclair Community College has also hired a full-time licensed social worker to connect students with resources. During Fall Term 2021, more than 380 students received social work/case management support.
"With the addition of a licensed social worker and the many other expanded student services, Sinclair Community College is furthering our mission to find the need and endeavor to meet it," added Alicia Schroeder, Director of Student Affairs – Sinclair Community College. "Our students continue to face enormous challenges as a result of the COVID-19 global pandemic, but our holistic approach to services and support from community partners allow our students to continue on a path to success."
To learn more about student services at Sinclair Community College, visit:
www.sinclair.edu/services/
The Sinclair Student Food Pantry is open three days per week. For information on the Student Food Pantry and Sinclair's other food resources, visit:
https://www.sinclair.edu/student-life/wellness/resources/food-assistance/

To learn more about the efforts of Miami Valley Meals, visit:
https://miamivalleymeals.org/