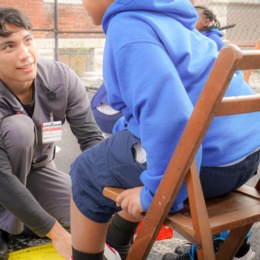 Nursing students and faculty from Sinclair Community College and Cedarville University recently volunteered with Shoes 4 the Shoeless to bring new shoes to children at Our Lady Of The Rosary School in Dayton.

25 Sinclair nursing students and several faculty members assisted with fitting the children with properly fitted shoes. During the fittings, Sinclair students also applied multiple concepts from the classroom including growth and development, family dynamics, cultural diversity, health promotion, disease prevention, and accident prevention.

"Sinclair's nursing students receive exceptional education in the classroom that equips them with a broad range of skills. Volunteer opportunities like this allow our students to apply those skills and give back to the community," said Robyn Razor, Nursing Chair/Program Administrator – Sinclair Community College. "This is another example of fulfilling Sinclair's mission to find the need and endeavor to meet it by developing a highly-skilled workforce of caring and compassionate healthcare workers."

Shoes 4 the Shoeless, Inc. is a non-profit that provides new, correctly fitting gym shoes and socks to Southwest Ohio children in desperate need. Shoes 4 the Shoeless began in 2010 and has helped more than 100,000 children.

"With an estimated 60% of children in Southwest Ohio living in poverty, the majority of them are in desperate need of shoes and socks. Wearing ill-fitting and worn shoes often condemns children to physical, social, and emotional problems that last a lifetime. With support from our education partners, we are helping children eliminate one of poverty's most visible stigmas," added Kris Horlacher, RN, BSN, Executive Director – Shoes 4 the Shoeless.

Learn more about Shoes 4 the Shoeless by visiting: shoes4theshoeless.org

The nursing program at Sinclair has been in existence since 1969 and, in that time, has graduated more than 6,600 students. To learn more about Sinclair's Nursing Program, visit:
sinclair.edu/nursing.
Photos:
Sinclair nursing student Isaac Sansone volunteers with Shoes 4 the Shoeless.