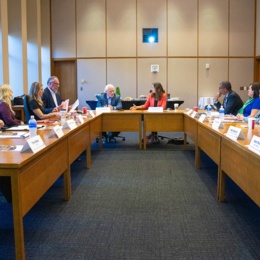 Sinclair Community College welcomed State of Ohio Representatives Andrea White and Phil Plummer and leadership from the Ohio Association of Community Colleges (OACC) to the Dayton campus on Tuesday, August 29, 2023, to learn more about the College's commitment to innovation in education.
Following a roundtable discussion, Dr. Steven Johnson, President of Sinclair Community College, and members of Sinclair's leadership team guided the legislators through the Ned J. Sifferlen Health Sciences Center. Representatives Plummer and White had the opportunity to witness students engaged in hands-on instruction using the equipment.
Over the past five years, more than 1,500 students have earned Sinclair Community College degrees in nursing, dental hygiene, respiratory therapy, and other health sciences programs. Over 2,000 Sinclair students have earned degrees in automotive technology, aviation, tooling and machining technologies, robotics, and civil, mechanical and industrial engineering technologies.
During the tour, President Johnson emphasized the importance of continued investment in higher education to ensure Ohio's workforce remains competitive on a national and global scale.