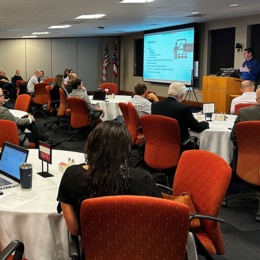 Sinclair Community College, along with the Center for Systems Security and Information Assurance (CSSIA), and Moraine Valley Community College (located in Illinois), hosted the 2022 State Cybersecurity Education Innovation Summit at Sinclair's Dayton campus on Friday, November 4, 2022. More than 50 federal and state education and government representatives attended in person. 25 attended virtually.
The theme for this year's event was "Expanding Ohio's K12 and Higher Education's Cybersecurity Pathways of Study." Summit attendees had the opportunity to engage with national leaders in cybersecurity education including representatives from the U.S. Department of Homeland Security, the National Security Agency, the U.S. Department of Education, and the National Science Foundation. Summit topics included new cybersecurity curriculum, interactive cybersecurity activities, and faculty development.
"Sinclair Community College recognizes the incredible value of partnerships to ensure we are providing the best possible education experience for students and prepare them for exciting, high-demand careers in cyber security and defense of our nation's infrastructure," said Kyle Jones, Associate Professor/Chair – Sinclair Community College Computer Science & Information Technology Department.
According to the U.S. Bureau of Labor Statistics, employment of information security analysts is projected to grow 33% through the year 2030. Approximately 16,300 openings for information security analysts are projected each year, on average, between 2020 and 2030.
Cybersecurity Education Innovation Summits are being held in multiple states at National Centers for Academic Excellence. Earlier this year, Sinclair was designated as a National Center for Academic Excellence in Cyber Defense by the Department of Homeland Security (DHS) and the National Security Agency (NSA). Sinclair received the designation for its robust offerings of degrees and programs in information technology and cyber security. In addition, the Sinclair Center for Cyber Security, located at the Centerville campus, provides an integrated learning environment that facilitates hands-on learning for assignments and projects in cyber defense, networking, desktop, and advanced server systems.
Learn more about the Sinclair Center for Cyber Security at: https://www.sinclair.edu/academics/divisions/bps/cis/ncae-cd-cyber-center/
To view and learn more about Sinclair's Computer Science and Information Technology degrees and certificates, visit: https://www.sinclair.edu/academics/divisions/bps/cis/