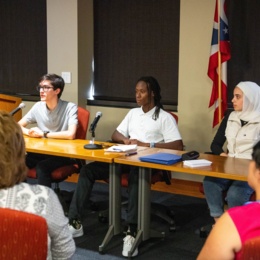 Sinclair Community College hosted the Defense Science, Technology, Engineering, and Mathematics Education Consortium (DSEC) quarterly meeting on September 20-21, 2022. 70 attendees from organizations and institutions from across the country shared best practices, planned for continuous improvement of their efforts, and learned more about each other's efforts to engage more students and educators in STEM.
DSEC is a collaborative partnership that aims to broaden STEM literacy and develop a diverse and agile workforce with the technical excellence to defend our Nation. Funded by DoD STEM, this multi-year effort includes elements focused on STEM enrichment programs for students and educators, STEM workforce engagement, program evaluation, and public outreach.
During the quarterly meeting, attendees heard perspectives from students who attended the DoD STEM-funded STEM Academy hosted by Sinclair College. In April, Sinclair partnered with Central State University (CSU) to establish STEM education and career pathways for underrepresented and military-connected students in the Dayton area. The CSU/Sinclair STEM Academy was formed as a result of a $250,000 grant from DoD STEM administered by DSEC.
This summer, CSU and Sinclair hosted two-week pilot academies for approximately 40 students who engaged in multiple STEM activities.
"Our faculty and community partners inspire student interest in STEM by inviting them to participate in the exciting STEM activities on campus and in nearby laboratories," said Sarah Heist, program coordinator for STEM Academy at SCC. "We are intentional about making early connections with students traditionally underrepresented in STEM and raising awareness about how one goes about preparing for higher education in STEM fields. We want to get them excited about STEM career possibilities."
In addition to learning about student support services, students met with faculty, researchers, and student researchers during visits to the many laboratories on campus, including robotics, mechanical engineering, chemistry, biology and microbiology. Guest speakers included STEM professionals from a regional crime lab as well as bioengineering, computer manufacturing and cybersecurity companies.
###
Photo:
CSU/Sinclair STEM Academy participants Dylan Damiano, Kyonn Sims, and Najwan Orabi, share their experiences during the DSEC quarterly meeting.
Posted 10/3/2022