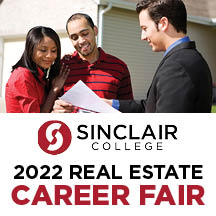 Sinclair Community College is hosting the 2022 Real Estate Career Fair to connect students and the public with in-demand career opportunities. The event is being held on Thursday, April 7, 2022, from 5:30 p.m. to 7:00 p.m. inside Building 12 at Sinclair Community College in Dayton. More than 20 real estate agencies and brokers with immediate openings will meet with students and job seekers. The public is welcome to attend.
According to the U.S. Bureau of Labor Statistics, about 47,500 openings for real estate brokers and sales agents are projected each year, on average, through the year 2030. Most of those openings are expected to result from the need to replace workers who transfer to different occupations or exit the labor force due to retirement.
"Sinclair Community College is proud to bring back this exciting event that aligns with our mission to find the need and endeavor to meet it by connecting students and job seekers with the region's real estate professionals who are looking to fill positions in sales, property management, title work, and finance," said Martha Taylor, Real Estate Program Director – Sinclair Community College. "Sinclair students in our real estate program receive exceptional education and credentials that employers need right now to fill in-demand jobs in the housing market."
2022 Real Estate Career Fair
Thursday, April 7, 2022 – 5:30 p.m. – 7:00 p.m.
Sinclair Community College – Ponitz Conference Center – Building 12
444 W. Third Street, Dayton
Open to students and the public.
Complimentary parking in the Student & Visitor Parking Garage, levels 2, 3 and 4. The parking garage is located between Fifth and Mead Streets with access via Robert Drive or Perry Street in downtown Dayton. Visit www.sinclair.edu/visit for directions and parking information
Sinclair College offers a comprehensive real estate education program and currently offers an Associate of Applied Science in Real Estate and Short-Term Technical Certificates for Ohio Real Estate Sales Associate and Real Estate Sales Professional. Learn more about Sinclair's Real Estate Program at sinclair.edu/academics/divisions/bps/res.