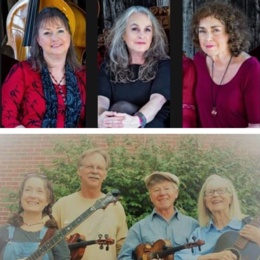 The Sinclair Community College Appalachian Outreach Department is hosting an evening of traditional mountain music on Thursday, April 14th from 5:00 p.m. to 6:30 p.m. The concert will be held on the Dayton campus, Building 10, Welcome Center. Featured bands are Ma Crow & Co. and the Jericho Old Time Band.
Based in Cincinnati, Ohio, Ma Crow & Co. consists of Ma Crow, Margie Drees and Vicki Abbott. The trio first came together in March 2011, to help form Ma Crow and the Lady Slippers. Each brought years of experience to the all-female group, performing locally and regionally, and produced three albums, Wayward Daughter, Memory of a Mountain, and Black Wings. Ma Crow (vocals and guitar); Margie Drees (vocals and fiddle); Vicki Abbott (vocals and bass). https://macrowmusic.net/
The Jericho Old Time Band is a group of old-time musicians who like to share the fun and variety of old-time music. Jericho presents an eclectic mix of American roots music including lively old-time fiddle tunes, lonesome ballads, early country vocal duets, mountain dulcimer, a variety of banjo styles and more! These talented musicians honor the rich traditions of the wonderful old tunes, while at the same time bringing their energy to make them their own.
Jericho features Dale Farmer, writer/director of The Mountain Minor, an award-winning movie depicting life of an Eastern Kentucky family that migrated to Cincinnati in the early 20th Century. Other musicians include Judy & Warren Waldron and Amy Clay. https://www.jericho-oldtimeband.com/the-mountain-minor
This evening of home spun fun is free and open to the public. Free parking is available in the student parking garage. For more information, contact Nora Stanger, Coordinator Appalachian Outreach, nora.stanger@sinclair.edu.