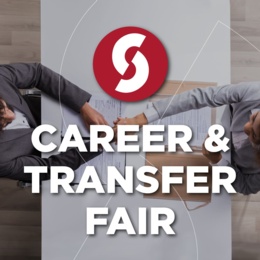 Sinclair Community College is continuing its commitment to connecting students and the community with in-demand jobs with the College's 21st Annual Career Fair. More than 60 Dayton region employers will meet with students and community members to discuss full-time and part-time positions.
"This annual event aligns with our mission to find the need and endeavor to meet it by linking our students and job seekers with meaningful career opportunities," said Matt Massie, Manager–Sinclair Community College Student and Community Engagement. "Sinclair students have received the exceptional education and training employers are looking for to grow their workforce."
Sinclair College 21st Annual Career Fair
Wednesday, April 6, 2022
Noon to 3 p.m.
Sinclair Conference Center – The Great Hall – Building 12
444 West Third Street
Dayton, Ohio 45402
Open to students and the public. Free parking is available in Lot C (under Building 12).
Employers attending Sinclair's 21st Annual Career Fair represent multiple industries including advanced manufacturing, aviation, computer science, construction, early childhood education, finance, government, hospitality, robotics, supply chain management, and more.
For more information, contact Sinclair's Student & Community Engagement Department at 937-512-2956 or visit sinclair.edu.