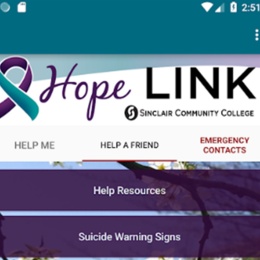 Sinclair Community College students, faculty, and staff now have access to mental health resources in the palms of their hands. Sinclair's free Hope Link mobile app allows users to quickly access potentially life-saving resources, including services offered on-campus and in the community, crisis hotlines, and customized support networks during difficult times. The app also provides resources and information to friends and family members who may be wondering how to help a loved one who is struggling.
A recent Sinclair College survey found that mental health is currently the number one concern for students.
"The Hope Link app is one of many resources and services provided by Sinclair College to help our students, faculty, staff, and community cope with the enormous strains presented by the global pandemic," said Dr. Scott Markland, Senior Vice President – Sinclair College Student Development. "While the app is not a substitute for professional help, it can quickly connect users to vital resources."
Sinclair's Hope Link app provides links to campus resources including counseling services, campus police, campus ministry, and veteran services. Community resources include Samaritan CrisisCare, the domestic violence hotline, United Way HelpLink 211, and Montgomery County Alcohol, Drug Addiction, and Mental Health Services. The app also provides tools for coping.
The app was produced in collaboration with the Ohio Suicide Prevention Foundation's Ohio Campaign for Hope and was developed in partnership with Lakeland Community College. Funding was made possible, in part, under a grant from the Substance Abuse & Mental Health Services Administration (SAMHSA).
In addition to the Hope Link app, Sinclair College is now offering counseling services to students 24 hours a day, seven days a week. Students can access the expanded counseling services through the Hope Link app or by calling (937) 512-3032.
Sinclair's Hope Link App is available on Google Play and the Apple App Store. To learn more, visit: sinclair.edu/gateways/apps.